Looking for an easy craft to do with all that extra construction paper lying around?
I have you covered.
The biggest surprise here was that I figured this out right out the gate…which means you can too.
Valentines Day "Cupids Arrow" Pencil Toppers
First, let me explain that Charlotte is on the school archery team.
Let's just say she wont be in the Olympics for it, but I was still pondering today how cute it would be for her to give out "arrows". I originally wanted to get real feathers, cut them up and clue them on and then I was like…nah. I like to do crafts with supplies that the average parent has in their home, so I went with construction paper method.
Supplies:
Construction Paper
Sharpened Pencils
Scissors

 Start by cutting out some "feathers".  It's easier to show you than tell you. The biggest tip I can give you here is to snip slowly…I had a lot of uneven arrows.
 Now just like the Valentines Day Heart Toppers, you need to snip spots for the pencil to go into. Fold in half and snip. The only time I had issues w/ this was when I used the sparkly card stock. Its actually hard to fold without getting a crease, so if you have another way to slit that line, use it.
Slide your pencil in. I prefer the pointy side to show so put your pencil in from the bottom.
Voila!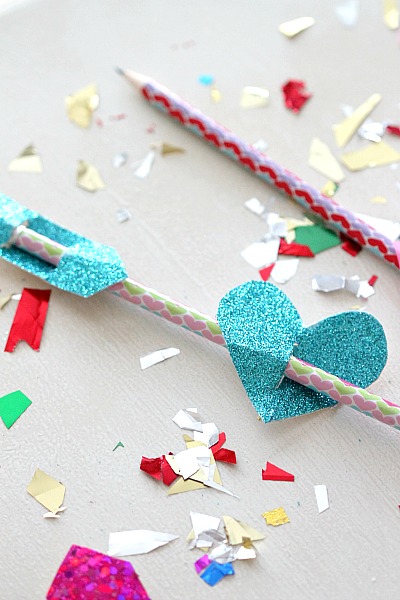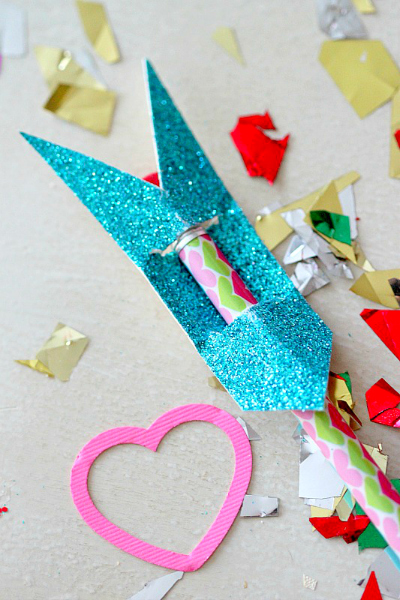 Do you love Valentines Day Crafting as much as we do?

We have great full picture and DIY tutorials (denoted with a

) or you can check out some of our amazing blog resources for tutorials from other talented bloggers!
Some valentines day crafts for you, just click to go!
Free Braille Valentines Printables