One of the most challenging parts of adjusting to a new diet plan is, well adjusting.  Making quick decisions about what to eat and when can be overwhelming, especially once you get too hungry.  However, by having a clear meal plan laid out in advance, you'll never stand in front of the fridge tempted to grab something that doesn't fit your containers.
This meal plan I've created is designed to fit the 1500 – 1800 calorie 21-Day Fix Meal Plan and provide you with 21 day fix recipes. You can also scroll down to learn how to eat out on this plan!
After all, realistically not every meal you eat will be at home.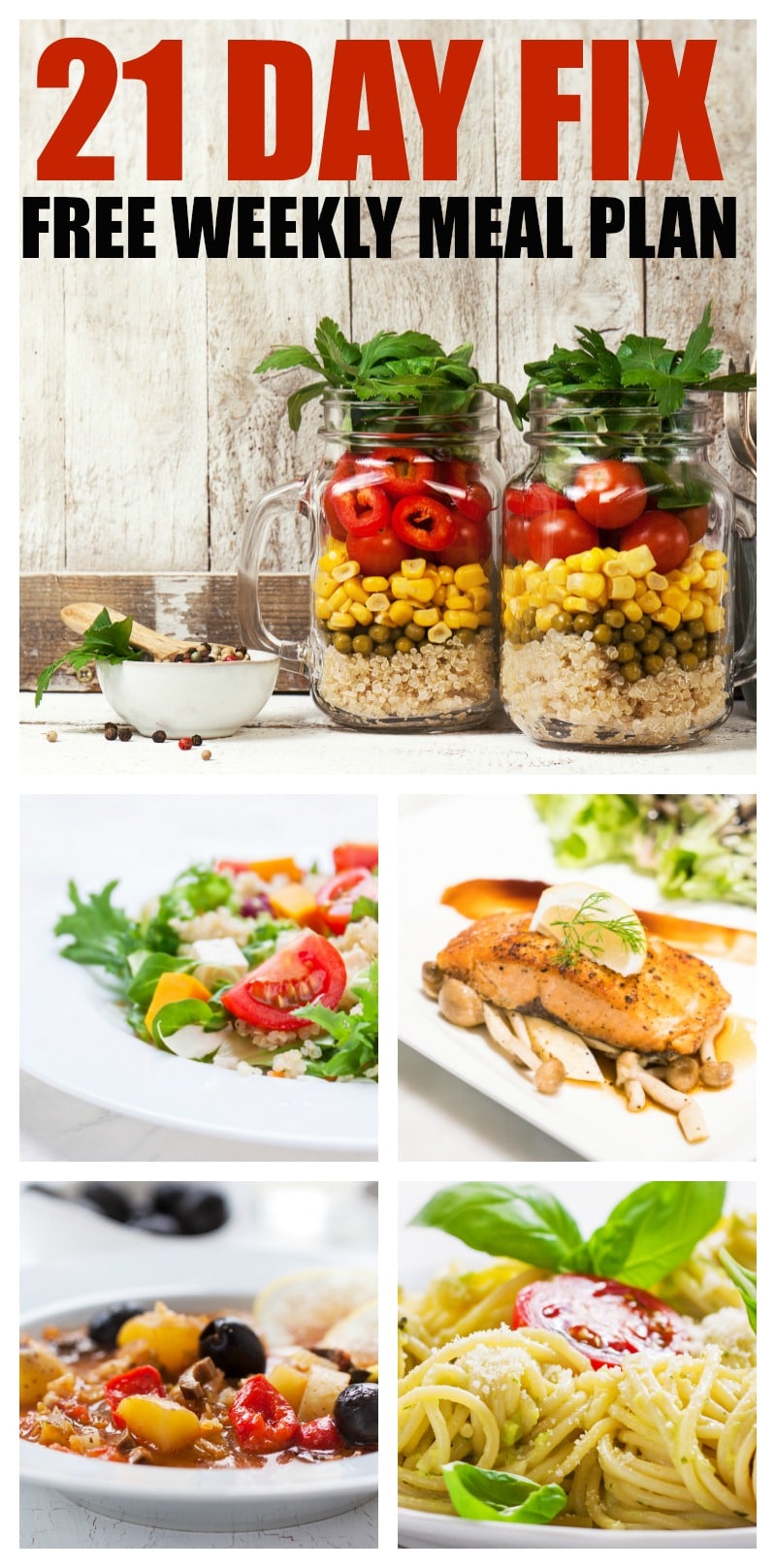 Help to get jumpstarted in 21 day fix" width="800″ height="1617″ />For each day, feel free to rearrange the order of meals and snacks to fit your schedule – the plan is designed to use almost all of your containers each day but overall, the container count balances over the course of the week.  If you're crunched for time, consider prepping some meals in advance.
For more great snack ideas, most of the snacks for this meal plan came from the list developed by Sublime Reflection.
  To make your shopping a little easier and to keep things from going to waste, ingredients are used throughout the week so you can stay in your 21 day fix guidelines!
---
DO NOT FORGET A COOKBOOK: Its great to have all these ideas put together for you, but there is nothing easier than having a cookbook of recipes on hand for a quick fix. I find that its easier to plan meals and stay on track. Try one of these for your meal planning needs!
Autumn Calabrese's FIXATE Cookbook – 21 Day Fix
21 DAY FIX: 30 Top 21 DAY FIX
21 Day Fix Cookbook: Your Ultimate Guide, Inclusive
21 DAY FIX: 30 delicious recipes WITH CONTAINER
---
 21-Day Fix Meal Plan Template
Monday
Tuesday
Wednesday
Prefer a different dinner? Try one of these 21 Day Fix Slow Cooker Recipes instead.
Thursday
Friday
Saturday
Sunday
Looking for more recipes to add in your meal plan this week?
Try the 21 Delicious Recipes for your 21 Day Fix,  21 Day Fix BreakFast Ideas, or 21 day Fix Lunches. Each one of these are curated with great recipe ideas so you can build your own meal plan that is right for your week.
Here are also some cookbook options if you prefer to have something in your hand (I know I do!)
Autumn Calabrese's FIXATE Cookbook – 21 Day Fix
21 DAY FIX: 30 Top 21 DAY FIX
21 Day Fix Cookbook: Your Ultimate Guide, Inclusive
21 DAY FIX: 30 delicious recipes WITH CONTAINER
21 Day Fix Guidelines and tips for eating on the 21 Day Fix, your new lifestyle that will make you happier and healthier without the stress! 
Tips for eating on the 21 Day Fix
So you washed your containers and made it through the first few days.  Maybe, you're feeling inspired and excited to see your results.  Or possibly you're wondering how you can keep up with all these containers for two or more weeks.
Remember, the 21 Day Fix does work, and it can work for you too.
 By carefully following the eating plan you will lose weight, but it does require some attention and planning.  However, armed with some tips and tricks, you'll be well on your way to a new version of you.
In a hurry to get started? Head here to check out the 21 day Fix Plan now!
21 Day Fix Guidelines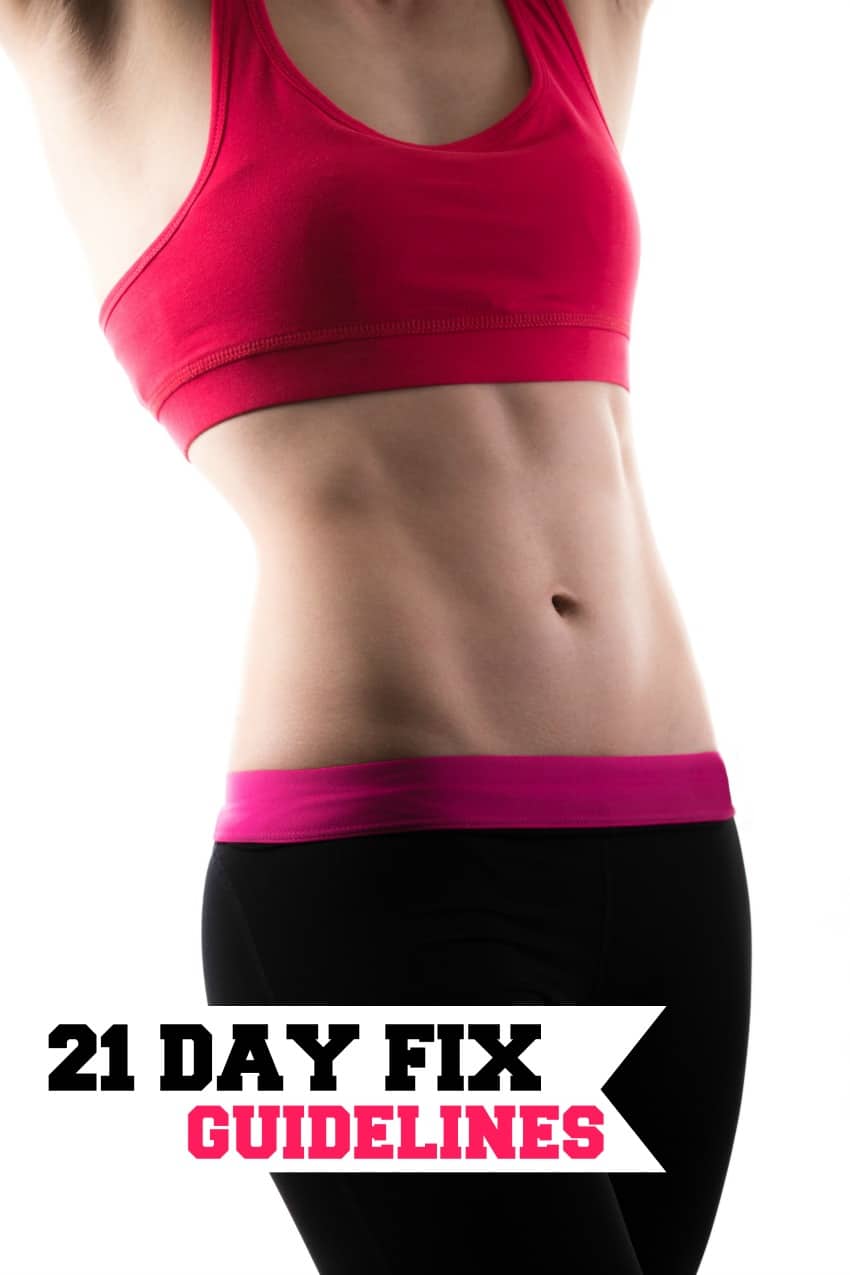 21 Day Fix Diet breakdown
The eating plan is designed to give you a calorie-reduced but balanced diet that provides your body all the fuel it needs to shed weight and get fit.
 The plan focuses on whole foods, which provide the greatest nutrient value, and uses the containers to guide you towards healthy choices automatically.
When you follow the program, you're eating primarily fruits, vegetables, and lean proteins.  These provide your body a wealth of important vitamins, minerals, and amino acids as well as the right balance of macronutrients.  Carbs, healthy fats, seeds, and oils are included to balance the diet but without adding unnecessary calories.
 This ratio provides optimal support for your strength and cardio exercise while managing your caloric intake, effortlessly.
The best part about it is that unlike other diets, that love to tell you what you can and can't eat, virtually nothing is off limit on 21 Day Fix.
 Fit it in the appropriate container, and you're good to go.  As we have probably all figured out, deprivation dieting is a disaster waiting to happen.  
Those healthy habits are one evening out from falling apart when you're suddenly confronted with these luscious, tempting foods you've been avoiding.  
The key to 21-day fix is eating the right balance of foods and spreading your containers out throughout the day to keep you full and satisfied and less susceptible to making mistakes.
smartYOU 7 Piece Portion Control Containers Kit (COMPLETE GUIDE + FREE
Efficient Nutrition Portion Control Containers Kit(7-Piece)with Complete Guide,21 DAY PLANNER,Recipe eBook,BPA
21 Day Portion Control Diet Container Set LABELED Portion Control Set
Beachbody Autumn Calabrese's 21 Day Fix EXTREME – Essential Package
Creating Recipes on 21 day Fix
Few of us think of meals as built around foods in separate containers – we like to combine and mix – techniques that might seem incompatible with the 21 Day Fix meal plan, at first.
However, by breaking down recipes into their food components and using your containers as a guide, you can easily combine foods to create delicious and healthy meals your entire family will love.
To be successful, rethink recipes in terms of the components of the dish and use your containers to measure food quantities.  So, if you want to make pasta salad, consider the ratio of pasta to other ingredients, beefing up veggies and lean proteins, while going lighter on sauces or dressings.  Choose a portion that contains more vegetables than pasta.
If this sounds complicated or if you want more guidance, check out the cookbook, Fixate
, written by the creator of the 21 Day Fix, Autumn Calabrese. 
She provides loads of great recipes that are easy to create, taste great, and keep you on the plan. 
As I'm cooking for the entire family, including the kids, this is a great way to rethink meals in general.  I tend to get in a rut where I'm cooking only what they won't fight me about, so I tend to sacrifice the veggies.
 Using the containers as a visual reminder of what foods are important for them AND me, I can rework their favorites in a more fix-friendly way.
Free 21 day Fix Meal Plan Printables
Here are some free meal plan printables we found out there that will help keep you organized:
Autumn Calabrese's FIXATE Cookbook – 21 Day Fix Recipes
Eating out, Tips & Recipes for Success
Eating out when you're watching your diet is difficult, regardless.  Focus on the components of the dishes.  You'll be best off with meals that are predominantly veggies and grilled proteins – ask for sauces or dressings to be served on the side, and watch those carbs!
 With some careful menu reading and a bit of help from your server, you can 21 Day Fix for your evening out as well.
Also, don't necessarily feel safe eating a big salad or a "light" menu item – salads at restaurants often have as many or more calories as entrees and hide secret diet pitfalls.  
Don't be afraid to ask for dressings on the side, grilled instead of fried meats, and to cut out those sneaky sources of fats and oils.  Restaurants should work for you rather than against you!
Try this sample meal plan and grocery list by The Fitness Focus. 
Does the 21 Day Fix really work?
You may be asking yourself, "Does the 21 Day Fix Really Work?"
If you follow the program, closely and carefully, there isn't really any reason why you wouldn't lose weight.
 The diet is based on a vegetable foundation which makes it easy to feel full and cut calories overall, while significantly boosting the incredible array of vitamins and minerals veggies offer.  
It's essentially a diet of moderation but uses super important visual cues to help you understand how much is enough and how much is too much.
You will be leaner and healthier at the end of your 21 Day Fix calendar, and I think you'll be amazed at what happens when you rethink your food and get your sweat on.  
Looking for more information? Click below!