Adding sprinkles to my slime is my new obsession. Ever since I figured out that nonpareils equal gorgeous streaking rainbows, I am adding it to everything and creating all sorts of awesome slime ideas for you to explore. Enter rainbow explosion slime.
This simply made white slime recipe comes to life with a spattering of rounded sprinkles and slowly streaks rainbows across the slime, making the best sensory experience for kids and adults alike. Using a fluffy slime recipe, you can take your slime from "this is fun" to "OMGOSH WATCH THIS" in seconds.
Ready to get started on making those rainbows?
Rainbow Explosion Fluffy Slime
NOTE: This slime explodes with rainbows using my very simple sprinkle tip! And while it looks good enough to eat, it most definitely cannot be eaten. Please make sure you only play science projects like this with kids of an age that can tell the difference in food and slime.
---
SLIME BOOK AVAILABLE!!
Love the Slime Recipes on MomDot? Our first book has been published and you can pick up a copy right on Amazon for yourself or to gift to a slime fan in your house! It features not only some fun basic slime recipes and how to get started on creating your own, but also some ways to use slime for holidays and gifts! Check out the book here! 
---
Rainbow Explosion Slime
(VIDEO ON BOTTOM)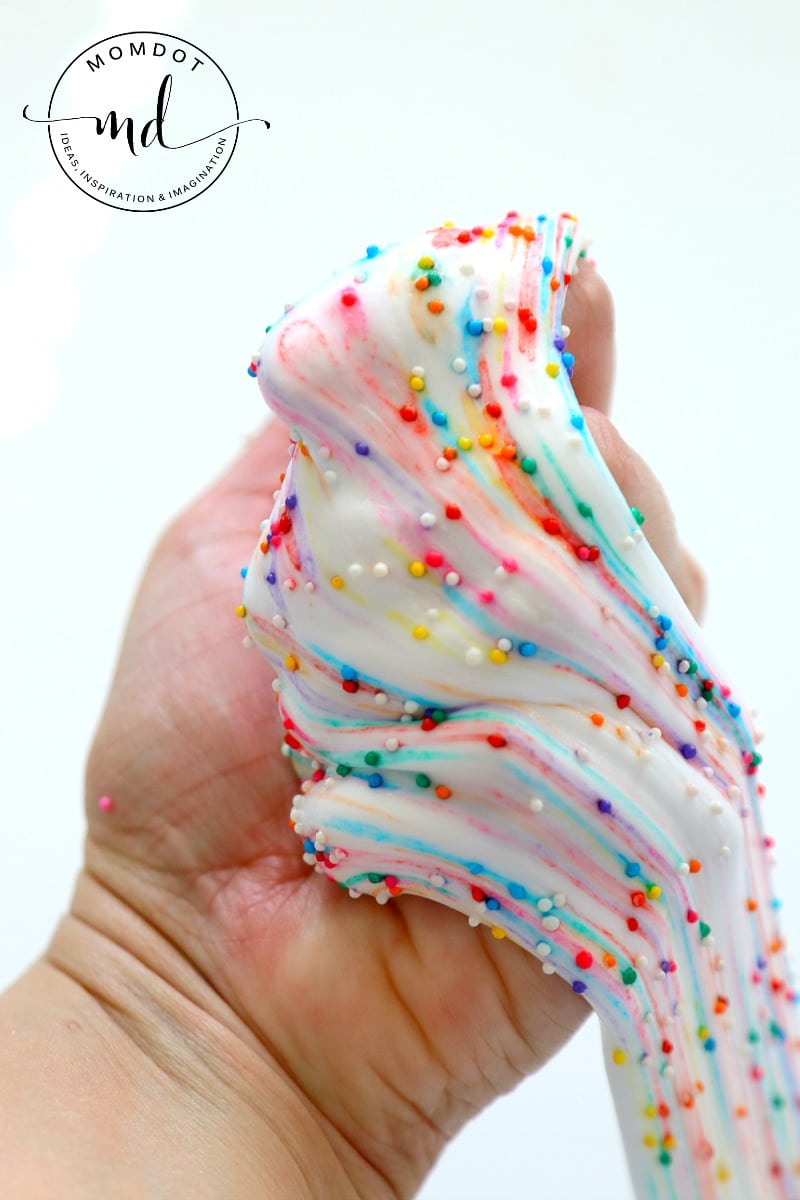 How to make Rainbow Explosion Slime with magic rainbows
Lets get started! First you need to create your fluffy slime! Leave it without coloring at all, so you just need your glue, starch, and shaving cream to get this going! Fluffy slime has a poofier more dense slime and the shaving cream additive makes it less sticky and more fool proof to original slime recipes. Of course if you are a novice, learn how to make slime without borax or check out all our slime recipes here. Tons of ways and no wrong way to play!
White school glue – I always use GALLON SIZED GLUE. Slime projects always lead to more slime and you cannot get a gallon in the store. I highly recommend just getting the big one as a more cost effective strategy.
Liquid Starch – This can be impossible to find, so also better to grab online
Nonpareils – You need tiny rainbow round sprinkles
Elmer's School Glue, Washable, 1 Gallon
Purex Sta-Flo Liquid Starch, 64 Ounce
---
Rainbow Explosion Slime Instructions
Rainbow Explosion MINI Video Below (if you are short on time!) There is a longer video below!
Ready to make your slime explode with rainbows? Lets make that slime!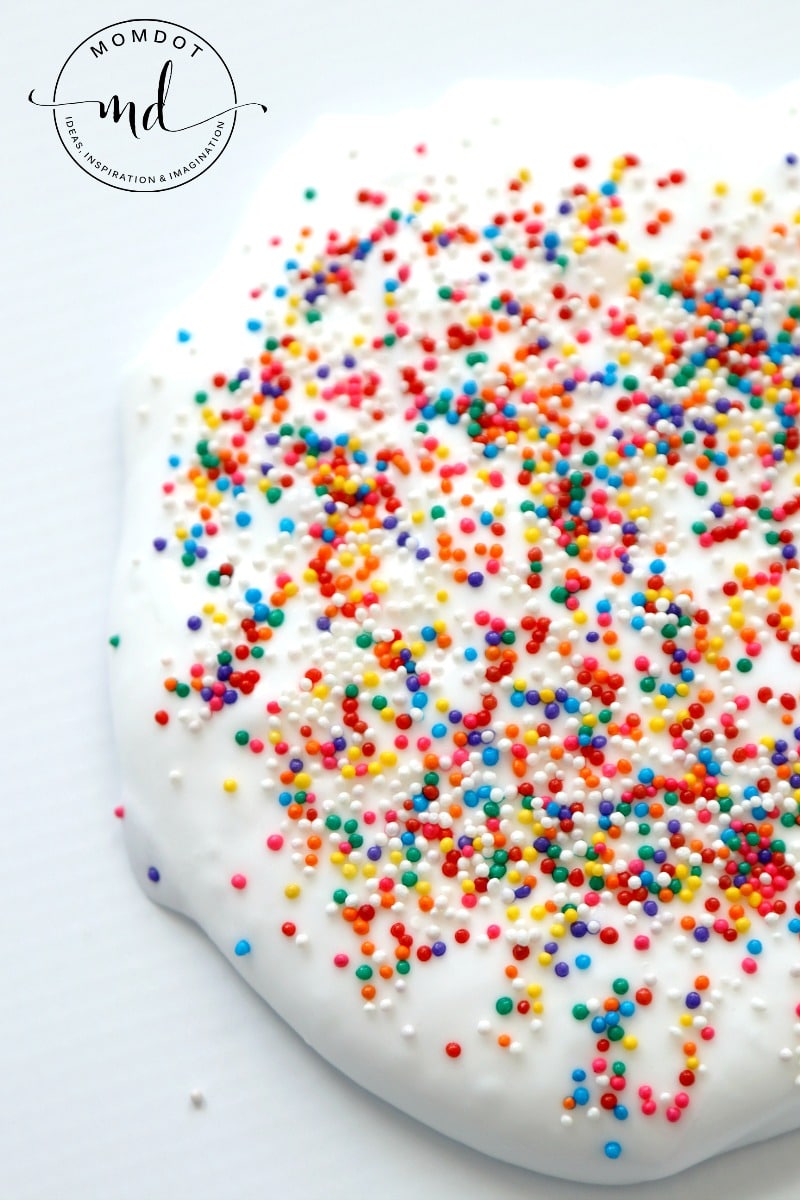 Start with about 2 cups of white glue
– you don't have to measure it, just eyeball it.
Now add some poofy shaving cream
, I like the dollar store kind. My estimate is about 1 cup worth. Stir.
Starch time! Add about 1/3rd- 1/4th cup liquid starch
to the bowl and stir. You will immediately see the slime form up. Continue stirring a minute or so and then pick up and begin kneading your slime. I have added a video below on how to make slime and can help you if you have questions. That slime does not include the shaving cream (in the video) but will show you the overall process of making slime if you need help.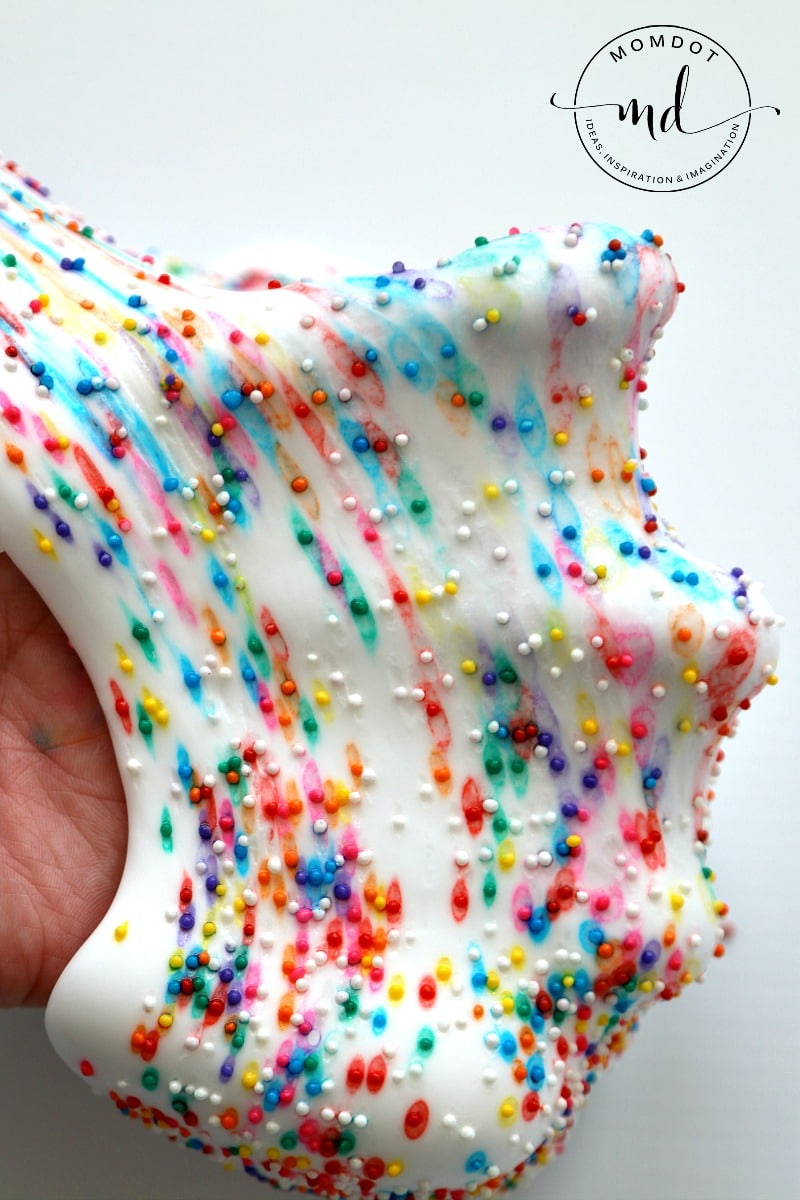 Once your slime is made, sit down and let it flatten out. Sprinkle your nonpareils on and let sit about 30 seconds. This gives the coloring a chance to melt into the slime a bit. Now put your hand under and PULL!! See the rainbows!!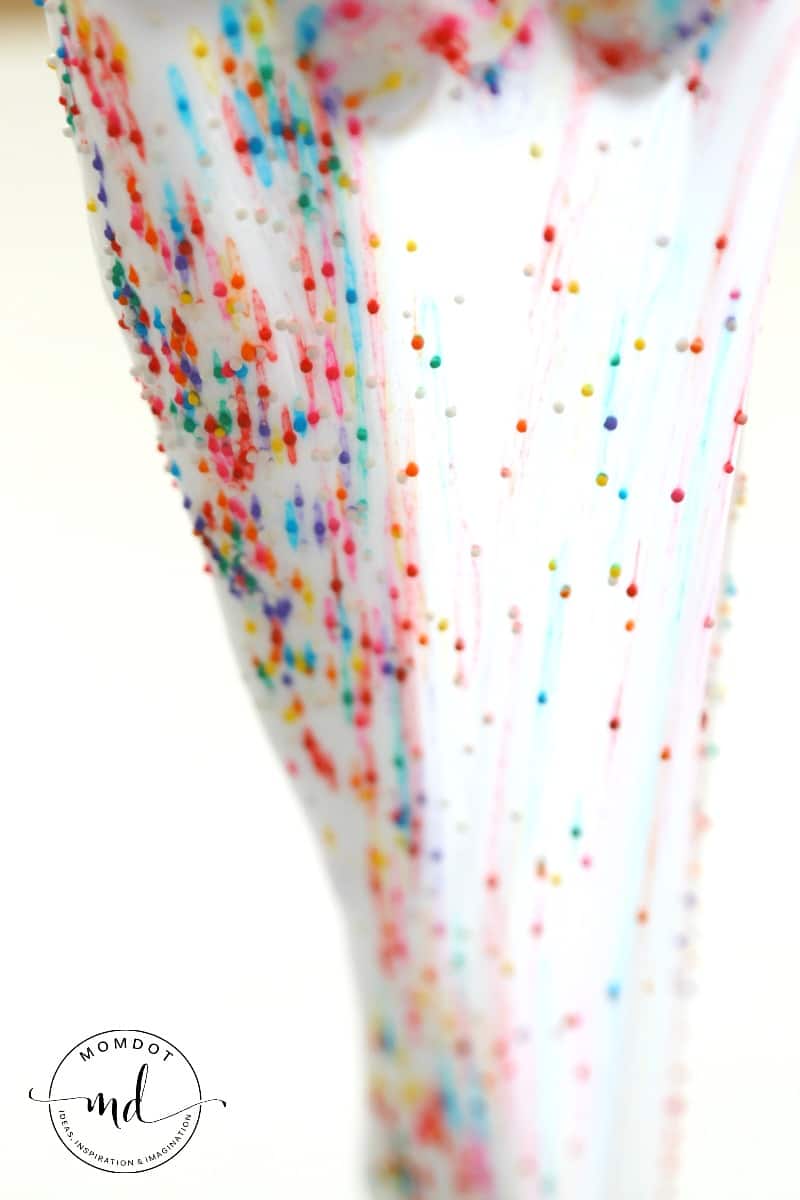 ---
See how slime is made in this helpful video
---
Rainbow Explosion Slime DIY Video
Ready for more Sprinkle Slimes?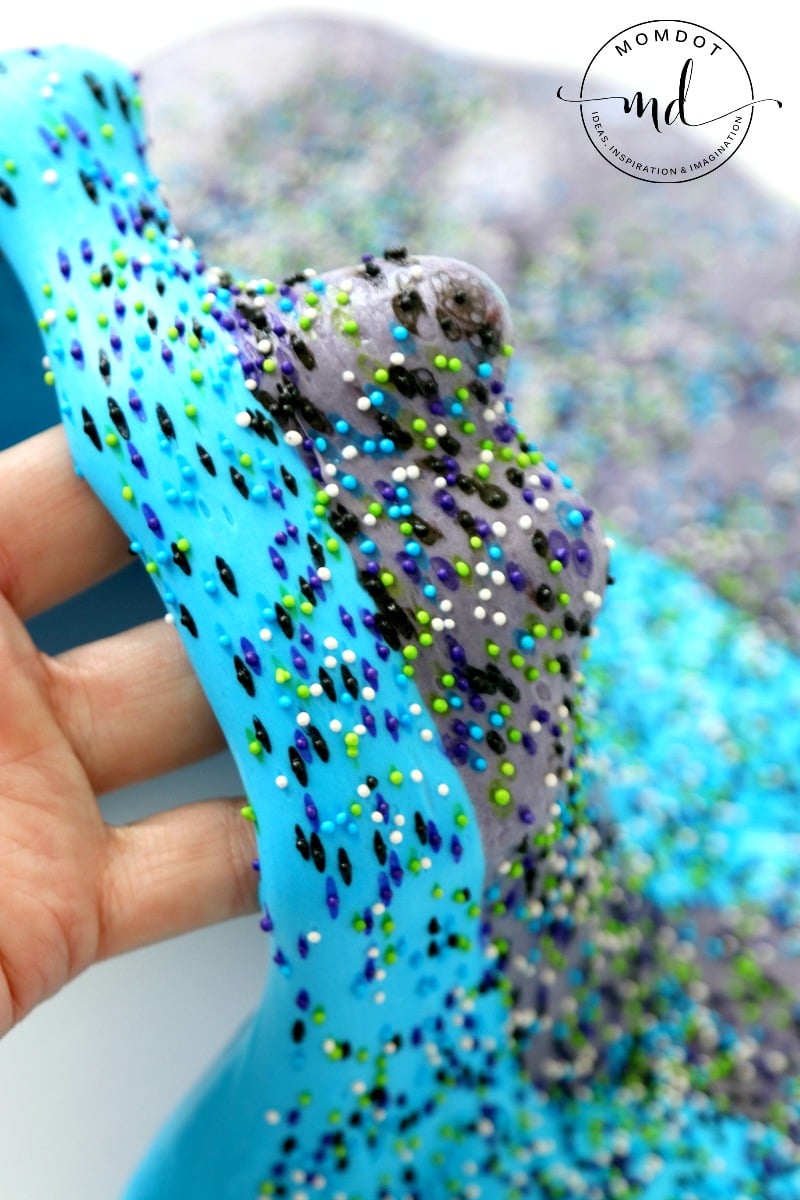 Fairy Slime