Earlier today as I was surfing Facebook I noticed my cousin share some cool crafting pictures of a "Fairy Jar" she did with her daughter. I asked her to write it up to share with yall, so here you go! I cannot wait to do this with Charlotte.
~Trisha
---
Fairy Jar Supplies

25 Lumistick 6
Before you get started, making sure you have everything on hand. Making fairy jars is so much fun when you have a variety of glow sticks in tons of colors. Here are some packs I found that come with so many amazing colors, your fairy possibilities are endless! You can get these in a variety of colors like this set or even find primary colors! I can think of a million ways to make a tooth fairy jar, a winter fairy jar, even a butterfly jar!
TOP RATED for a project like this
Set of 25 Premium Glow Sticks in Display Box
Extra Bright! Glows for 8+ Hours
Brand New & Fresh from the Factory
Non-toxic and CPSIA Compliant
---
DIY Fairy Jar "HOW TO" Tutorial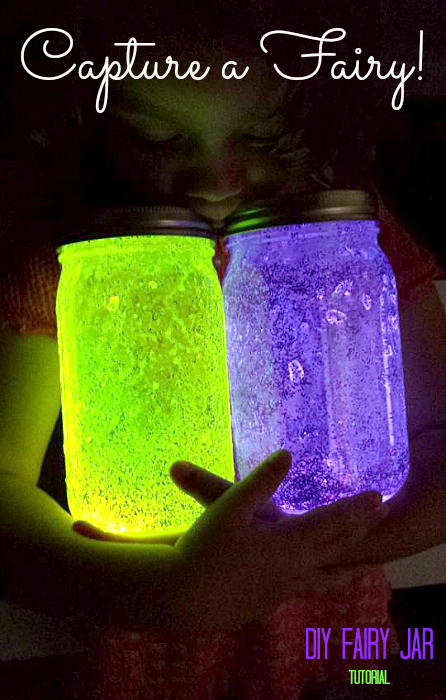 Items:
Fairies in a Jar
Step 1: Decide which color glitter you want in your Fairy Jar and which color glow stick you are going to want in the jar.
Step 2: Cut open the bottom of the glow stick on a towel (as not to get the fluid all over everything; you could also elevate the glow stick on the lid of the jar).
Step3: Dump the contents of the glow stick into the jar. BE CAREFUL! To my surprise, I found that the inside of the glow stick is in fact, glass.
Step 4: Once you've done that, grab the glitter and dump it into the jar on top of the glow stick contents. The amount of glitter is going to depend on the size of your jar, how sparkly you want it, and what glitter you decide on. I used about half of one glitter container I bought. If the glass from the glow stick did not break upon dumping it into the jar, you can break it now by hitting it with the end of the knife.
Step 5: You can now put the lid on!! Make sure it is on very tight, and shake it up like crazy.
Now that you now know how to make a "fairy in a jar", you can use them to decorate your childs room at night, a deck outside, the yard, your bathroom when you're taking that candle lit bath, or whatever else you may think up!
P.S. They only last about 8 hours.
Enjoy your "Fairies"!
~Trinity
(Trisha's cousin)

Now check out our