Learn how to make a turkey wreath with fabric slip knots! This DIY turkey wreath craft is so quick and cute! All you need are fabric quarters in the colors you like, a foam wreath form, felt, googly eyes, foam disc, and brown paint. Read on to see how!
Even more fun than a tulle wreath, this Tom the Turkey wreath is so fun to make and display. Looking for more easy-to-make Halloween decorations? You will love this super simple " How to make a Halloween Wreath" instructional too!
How to Make a Fabric Turkey Wreath With Slip Knots
How to Make a Turkey Wreath
Use acrylic paint to paint the wreath form and floral disk.
You'll need 2 coats on the form, let dry between coats.
When painting the floral disk, make sure you apply the paint heavily so it goes into the pores of the foam, showing less white foam.
Let dry completely.
Lay 1 piece of fabric onto a flat surface and fold it in half to measure 18″ x 10.5″.
Place a measuring tape across the folded area and use scissors to snip the fabric at 2″ intervals.
Remove the tape measure and continue to trim the rest of the fabric so you have strips.
Repeat for all the pieces of fabric.
Place your wreath form, face down on a flat surface.
Fold a fabric strip in half and place the loop under the form. You'll be making a slip knot.
Bring the bottom, loose ends of the fabric through the loop, wrapping it around the form. Pull the ends firmly toward the outer edge of the form.
This is the back side of the wreath. Continue to cover the wreath form with fabric, scrunching each piece together after it's tied on.
Repeat until you have the desired look of a turkey!
About 2/3 of the wreath form will be covered.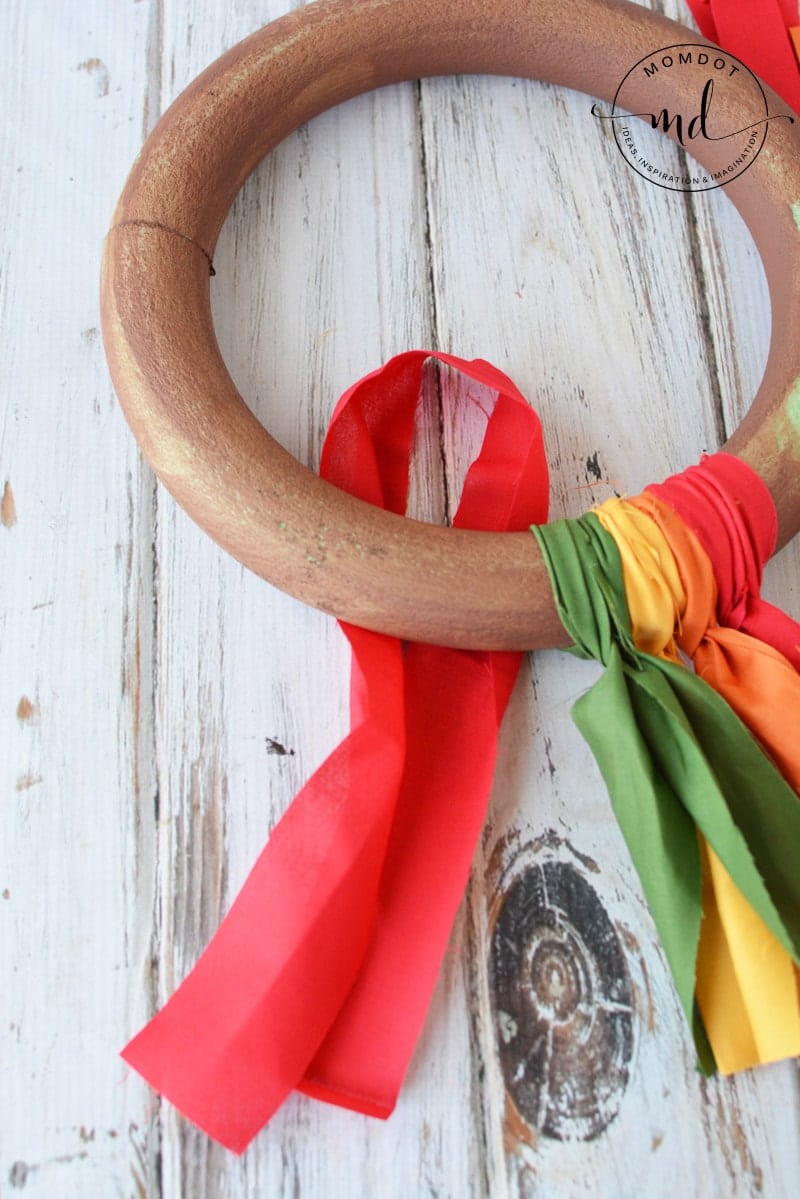 Flip the form over and you'll have the front of the turkey feathers.
Pull on the ends of the fabric to tighten and position them to your liking.
Use red felt to create a red turkey snood for the face, measuring about 3″ in length.
Use yellow felt to cut out a diamond shape for the beak. When you glue it on you'll fold it in half to make a 3-D triangle beak.
I used 2 pieces of felt and glued them together to create more dimension.
Glue the eyes, beak, and snood onto the brown disk with hot glue. Attach the disk to the front of the wreath form with hot glue.
Hang as desired.
NOTE: If you are unhappy with how the fabric hangs, you can lay the wreath on a flat surface and straighten out all of the fabric. Then generously spray with starch and let dry. Flip over and spray again on the back.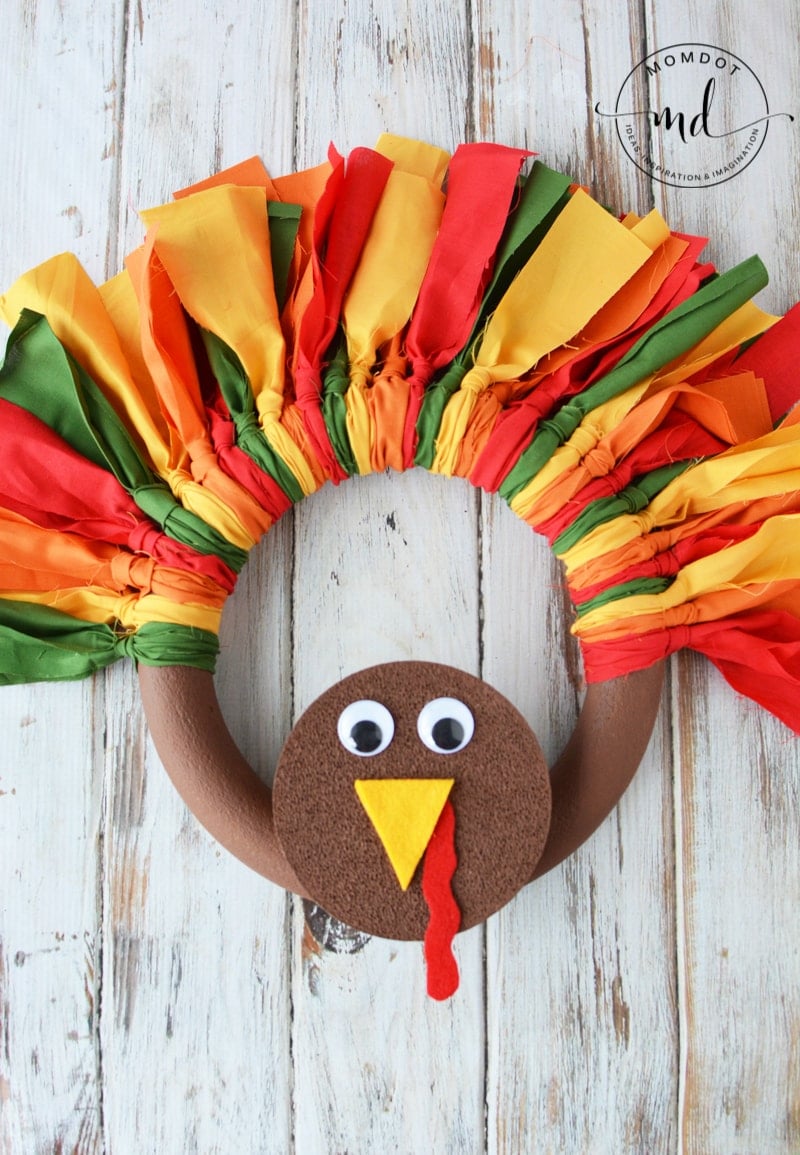 FAQs
Q: Is it cheaper to make your own wreath?
A: Almost always, yes. You can find really cheap ones at Dollar Tree sometimes, but they look really cheap compared to what you can make on your own. You can't even touch a nice-looking wreath for what you'll spend on supplies to DIY a wreath. 
Q: How do you make a wreath from Dollar Tree?
A: This is one of my favorite stores to get supplies for wreath making! You can find the styrofoam wreath forms, wired or gauzy ribbon, plus seasonal picks to embellish the wreath. You might end up spending around $20 in supplies to make a nice full Dollar Tree wreath, but this is easily half of what you'd spend at a craft store.
Q: What is the best base for a wreath?
A: The best base for any wreath is a styrofoam wreath form. It's so easy to wrap with ribbon, it has a uniform finish, and can be painted as needed to camouflage it behind your other designs. The only exception would be if you're making a wreath with only greenery. In that case, it's easier to use a wire wreath form and floral wire to attach the greenery.