Sun's out, fun's out with these 5 scavenger hunt ideas that kids will love. From day time to night time, going on a perfect adventure with your kids creates tons of memories and laughter.
See what you can find and be guided with these free printables and inspirational ideas for connecting with your kids on your next walk.
Scavenger Hunt Ideas for Kids
Scroll down to find an idea that your family wants to do and then follow the link to print off the hunt! Make sure you are on desktop and these printable guides are free for your personal usage and family fun. All these ideas below are meant to be walked around with and enjoyed, but if you are on a trip, why not grab this License Plate Game Printable so your kids can scout states from the back seat!
Summer Scavenger Hunt
Summer has arrived and kids want nothing more than to be outdoors. Let them head out on a fun summertime adventure outside. Guide them along with this free summer scavenger hunt printable which celebrates all things summer.
Perfect for a beach day or a pool day, just click below to be taken to the summer scavenger hunt and print!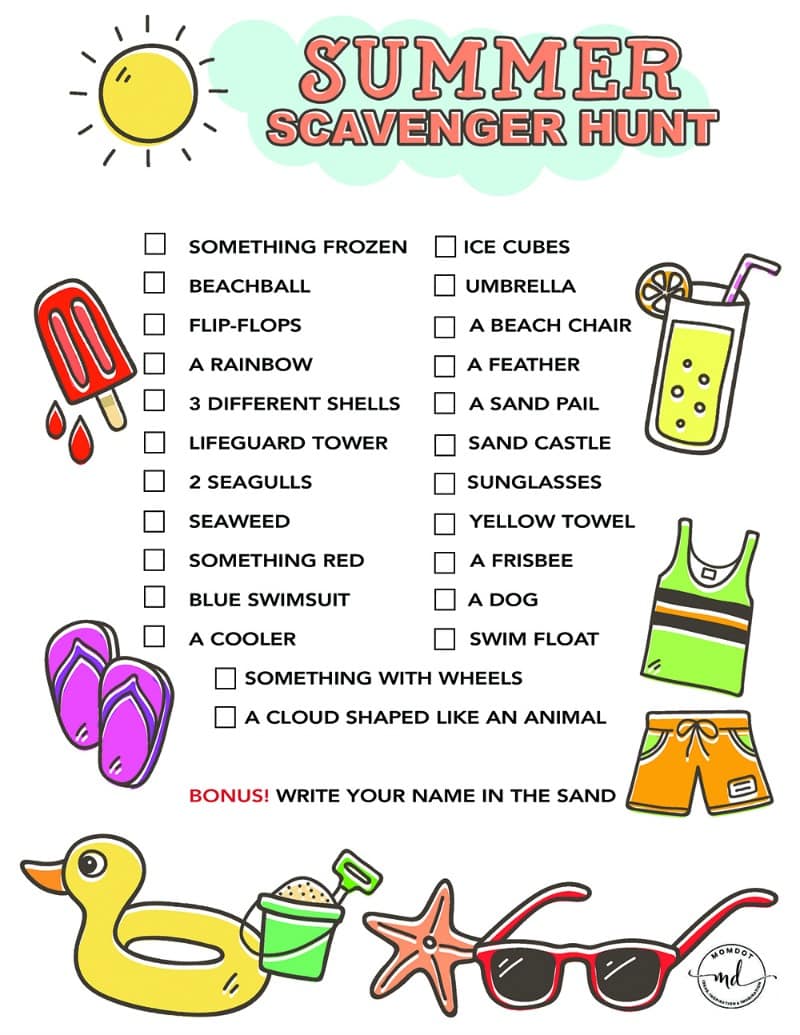 Photo Scavenger Hunt
Load up your kids in the car or grab the dog and go on a walk, because this outdoor photo scavenger hunt is so fun! Pick a subject like trees, flowers or bugs, and simply walk around and snap pictures of every different one you found!
We decided to focus on flowers as they are fun to photograph and there are so many.
Let kids use a device to take pictures and then research the kinds when you get home. You do not need a sheet for this one, just a camera!
Here are some of the flowers we found on our photo scavenger hunt adventure.
Nature Scavenger Hunt
Nature scavenger hunts are so much fun. You can take your kids out into a park, downtown, or even your own neighborhood in search to find trees, bugs, and shapes.
This nature scavenger hunt adventure is a favorite for my kids and it will be for yours too. This printable set is also fun for boy scout/girl scout packs and come with its own set of badges. Best part is downloading it is totally free!
Just click this image to go to the page and print.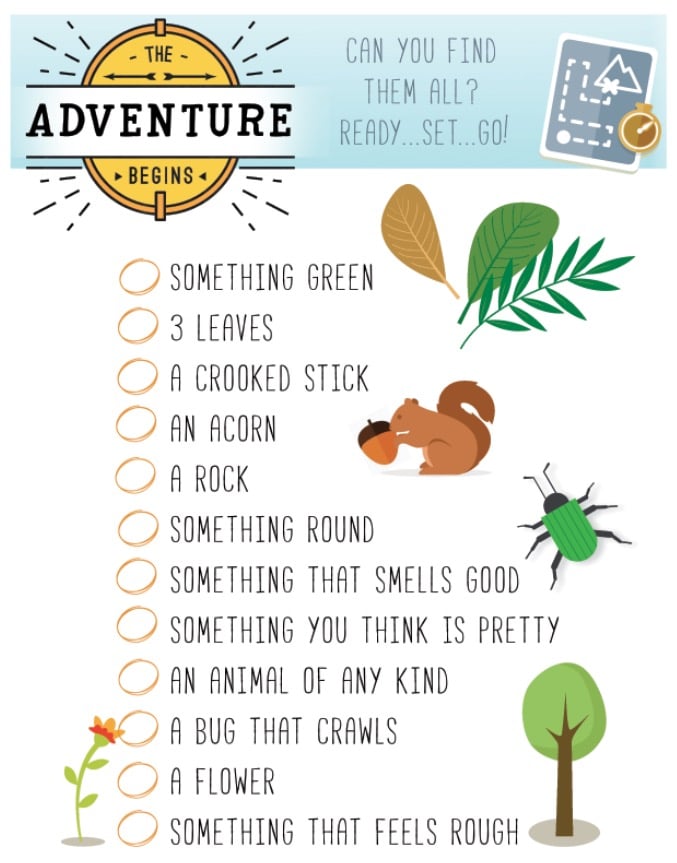 Nighttime Scavenger Hunt
Another super fun scavenger hunt idea for kids is to take it outside at night! There is nothing more fun than grabbing some flashlights and seeing what creepy crawlies come out when the sun goes down. From new bugs to new sounds, walking at night is a ton of fun.
See our entire night time scavenger hunt for kids by clicking below.
You can also print these helpful sheets to mark off as you go on your adventure!
Fire Safety Scavenger Hunt
You can also use scavenger hunts to learn! We developed this Fire Safety Scavenger hunt to help prep your kids for going around the house and being aware of where everything is in case there is a fire. This simple game is one that can also save you or your kids life in event of an emergency.
Download the fire safety scavenger hunt printable sheet here.