If you are on a sprinkle slime recipe whirlwind, you will find this  slime tons of fun and one that you will want to put on the forefront of all your slime making! I adore making sprinkle slime and it has manifested itself in many ways around here. From birthday cake slime to rainbow explosion slime (both listed below), adding sprinkles to your slime brings a certain amount of magic and wonder to this awesome science project. 
NOTE: This slime explodes with  mini rainbows using my very simple sprinkle tip! And while it looks good enough to eat, it most definitely cannot be eaten. Please make sure you only play science projects like this with kids of an age that can tell the difference in food and slime.
Sprinkle Slime Recipe
Lets get started on making your sprinkle slime recipe! First you need a base and to create your fluffy slime! Leave it without coloring at all so you can see the magic of the sprinkles. For this, you will just need your glue, starch, and shaving cream!
 Fluffy slime has a poofier more dense slime and the shaving cream additive makes it less sticky and more fool proof to original slime recipes. Its also less sticky and easier to maintain a consistent result.
---
SLIME BOOK AVAILABLE!!
Love the Slime Recipes on MomDot? Our first book has been published and you can pick up a copy right on Amazon for yourself or to gift to a slime fan in your house! It features not only some fun basic slime recipes and how to get started on creating your own, but also some ways to use slime for holidays and gifts! Check out the book here! 
---
Elmer's School Glue, Washable, 1 Gallon
Purex Sta-Flo Liquid Starch, 64 Ounce
---

Ready to make your slime look amazing with sprinkles?
Start with about 2 cups of white glue and pour into a bowl – you don't have to measure it, just eyeball it.
Add about 1 cup of shaving cream. I like the puffy kind like Barbasol. If you need another full recipe on how to make fluffy slime head there.
 Now its time to make your slime. Add about 1/3rd- 1/4th cup liquid starch to the bowl and stir. You do not need to measure it, just pour and stir. Its a science project after all.  You will immediately see the slime form up. Continue stirring a minute or so and then pick up and begin kneading your slime. I have added a video  on the article below on how to make slime and can help you if you have questions.
Once you have your white fluffy slime made, you can spread it out and add your sprinkles. Wait about 15-30 seconds for the sprinkles to sit and then slowly stretch your slime to see rainbows and streaks left behind. The sprinkles leave dye behind and eventually turn white themselves.
I also super love making galaxy slime so before you go, check that out!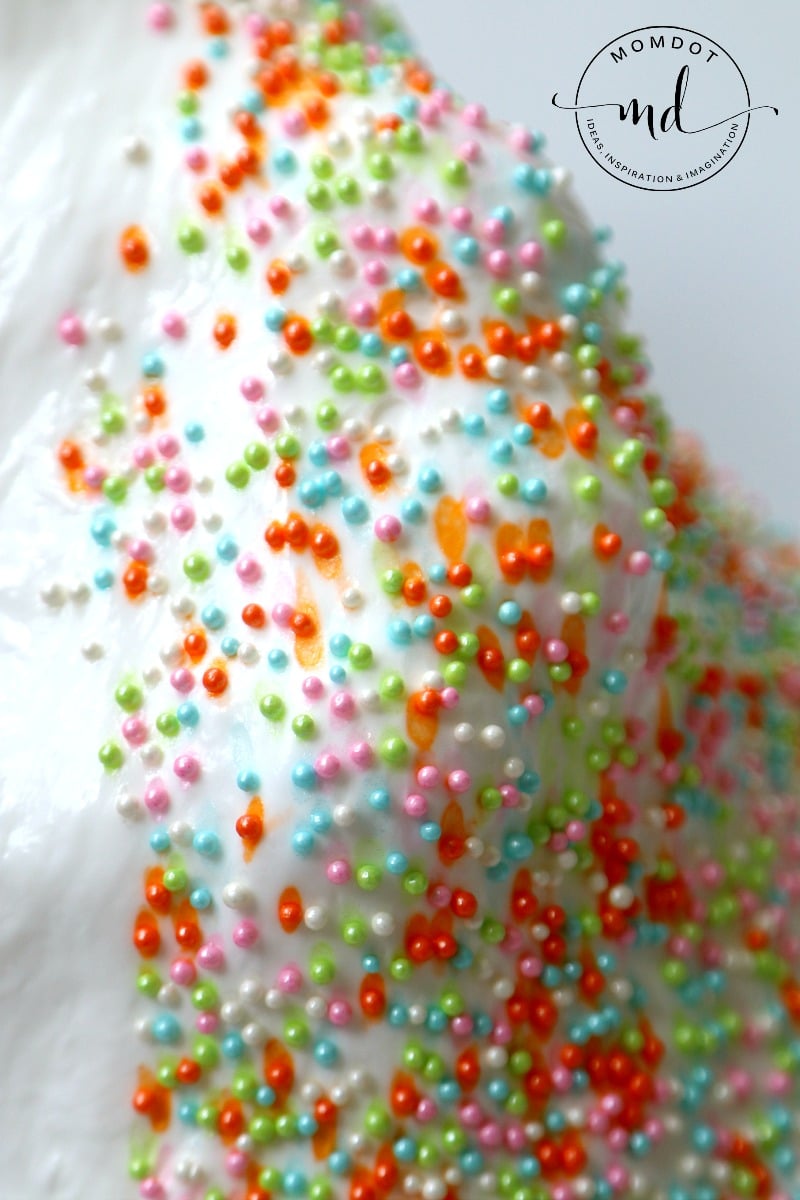 Of course this is so fun but there are also other unique slime recipes on my site. Try this fantastic idea on how to make fluffy slime (rainbow!) or head over to how to make sand slime
---
See how slime is made in this helpful video
---
---
Slime Ideas
Want to see more amazing slime ideas? You can head to the main slime category or click on some images below to see some favorites of mine.
Big Sprinkle Slime (I call it Birthday Cake Slime)
Rainbow Explosion Slime
Fairy Slime: This looks amazing when you see it stretched!