Glow in the Dark Slime is a super fun way to bring together all your senses. With this amazing glow in the dark goo recipe, you're sure to spark their interest. When it comes to making homemade slime without borax, you can never get enough. That is our mantra anyway!  Kids (and adults- admit it!) love glow-in-the-dark, so why not!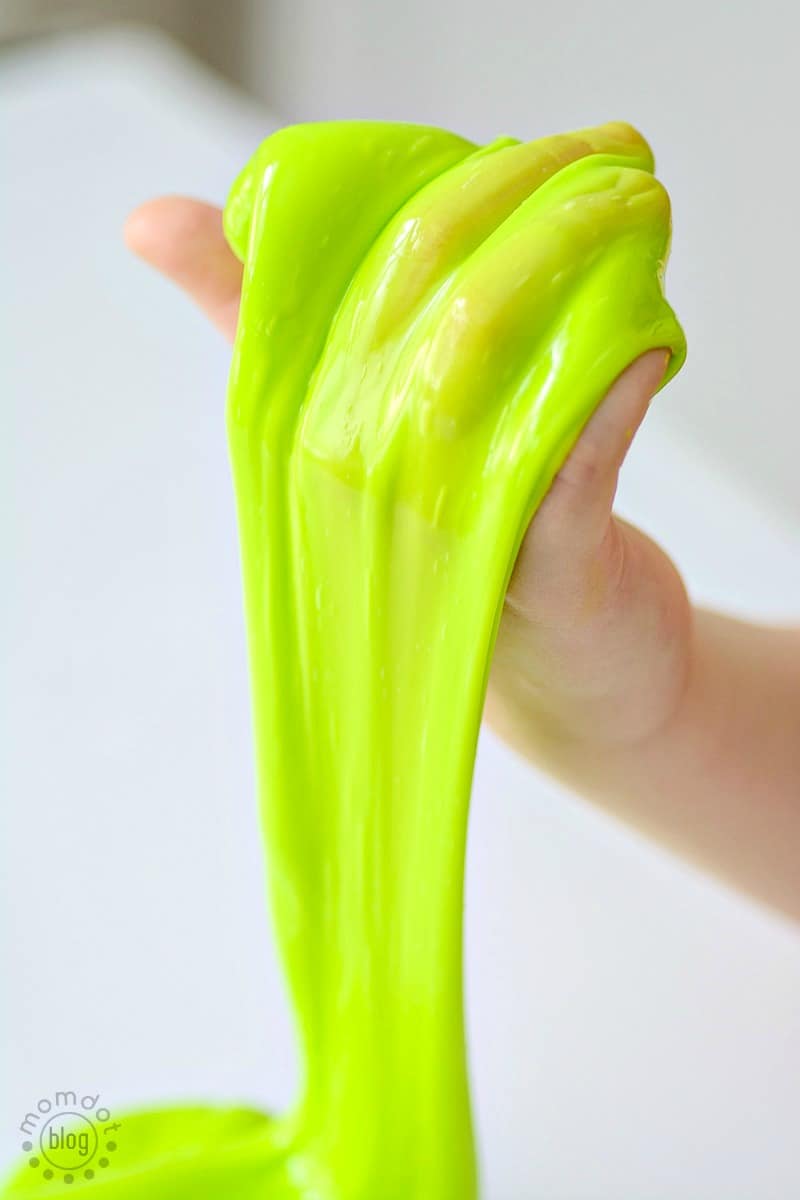 How to Make Glow in the Dark Slime
We have made the ooey gooey, sticky, slimy fun for nearly every season, with a variety of colors and scents. Valentine's Day: Valentine's Day. St. Patrick's Day: Pot 'O Gold, Rainbow Slime with Borax, Rainbow Burst.  Independence Day: Star Spangled Slime.  Thanksgiving: Thanksgiving Explosion. Christmas Slime: Peppermint Slime, Christmas Explosion Even party pleaser slimes: Unicorn Poop Slime, Color Changing (thermochromic pigment), Birthday Cake or Confetti, Fairy, Galaxy, Nebula, or Shooting Star Slime, and even Camo Slime! And I wanted to make sure I showed you that you can use all these slime recipes. By making one small alteration, you can add a sensory Glow in the Dark element that's fun for the eyes!  Or is it easy on the eyes?  Either way: It's FUN!!!
It's just as simple, just as fun, and brings an added element of giggle when your kids can play in the dark– no black light needed!  First you need our basic slime recipe. These ingredients work for the creation of nearly every slime.  It's the creative additives (Sand, Roaches, Rubber Bands, Styrofoam Balls, etc.– the sky is the limit!) that makes the slime extra unique.  Kids love additives!
Glow-in-the dark slime needs a few specific ingredients, so let's talk about that first.
How to make Glow in the Dark Slime
To get started on your recipe, first pour your Elmer's school glue into a cup or bowl. I like to use disposable, throw away cups or bowls, personally. Depending on how much slime you want, start with around 8 oz of glue, which is the same as about 1 cup. If you want more slime than that, you will need to adjust your ingredients as you go. This "how many cups in a quart" conversion chart may help you figure that out.  If it is substantial, I'd suggest making multiple smaller batches and combining them.  It can become difficult to knead the more you have in one batch.  Trust me, your hands will thank you!
Add in your food coloring, using a light stir motion, until you get the color you want, and its fully intermixed. This will be the color of your actual slime.  We (the kids especially!) like to use vibrant, neon food coloring. Helpful Hint: In these pictures, we have 3 drops of neon green and neon orange food coloring
.
Ready to make glow in the dark slime now? It's so Easy!
Mix in 2 tbsp glow in the dark gel
 to the glue mixture.
Warning: You may be tempted to turn off the light every few seconds, to revel in your progress.  As it comes together, don't be afraid to practice your maniacal giggle, mad scientist style.  Bwahaha…
Now mix in your liquid starch. The liquid starch is what makes it clump up. You may need as much as 1/3rd cup, but always start with a little less, a light dose, like 2 tablespoons.  Helpful Hint:  If you add too much starch, your slime will become as hard as a rock.  It is always wise to start with a small amount, adding slowly.  After a while, you'll be able to feel the desired consistency, but for the first few tries: SLOW!  Slime making skills are like baking: Tricks are learned by life, not simply reading. 
Keep stirring and your slime will start to form. If the slime is still sticky, add more starch. Once it's in a pretty good lump, you can take it out and start kneading it. The longer you knead, the stretchier your slime will become. This process can take about 3-4 minutes– keep those hands a movin'. If, after that time, the slime is not coming off your fingers, it may need a little more starch. Remember, just a tad at a time!
How Do You Store Slime?
Now that you have learned how to make glow in the dark slime, you need to keep it from drying out!  This isn't silly putty…
Store your glow slime in sealed container  (I used them as Halloween "candy"), Ziplock, or even cover in saran wrap.
Glow in the Dark Slime without Borax
PRO TIP FOR HOW TO MAKE GLOW IN THE DARK SLIME: Many people do not like to deal with borax and water when making slime. Here on MomDot, I only make our glow in the dark slime without borax! I use LIQUID STARCH and glue. It's a ton easier than worrying over how a borax solution can over-harden your slime. It can be pretty hard to find liquid starch in some areas, so pick this one up below (it's the one I use), as well as a huge thing of glue so you can make tons of slime for all occasions. Buying this way is a lot more cost effective, because once you start making slime, you will definitely want to have glue on hand!
&
Purex Sta-Flo Liquid Starch, 64 Ounce
Elmer's School Glue, Washable, 1 Gallon
---
Learn How to Make slime and get more Slime Recipes here!
How to make Slime Video
Want to see how slime is made? This short video will give you the skinny on making slime with glue and starch and how unbelievably easy it is! I hope this inspires you to get your slime made!
Having Trouble Making slime?
This video is a longer video that shows you how slime comes together. Many people believe that slime is instant but it can take some time to mix up and kneed. This video will help you understand what you are doing wrong- OR right!
How to make Bubbles with Slime Video
Making bubbles is SO much fun with slime! Learn how to make bubbles alone or with a friend. Who can make the biggest bubble?
Kinetic Slime
We experimented with creating a kinetic slime that sticks together. Come see how we did it!
For other Glow-in-the-Dark Fun:
Big Dipper Big Dipper on your Constellation Jars
So grab your glow-in-the-dark paint, glow sticks, glowing stars, glowing smiles, your new glow-in-the-dark diy treasures made from a Momdot recipe, turn off the light, and PLAY!!!!!  No black light needed, thank you very much!!  Who's up for a game of Ghost in the Graveyard?!  Anyone?!