Coolsculpting: Does it actually work?
14 months ago I had a baby.
A really sweet wonderful baby that left my body a not-so-sweet and not-so-wonderful wreck.
Unfortunately, I already had two strikes against me:
1) I have had a child before so this isn't the first time down "bigger thighs, hips and stomach" road
and
2) I had to have a C-section this time around.
All that being said,  I have lost nearly all the baby weight. I couldn't tell you how much I gained, (memory is the second thing after a good body to go) but I can tell you that I am a close 5 pounds from that pre-baby weight. Exciting, right??!?!
Notsomuch.
At 34 I am not the young 27 year old I was back then and my skins elasticity, memory, and fat in my stomach area hasn't exactly "remembered" the "before", even though my habits are the same and technically I get more exercise chasing around a 27 pound 14 month old.
Live with it? Learn to Love it?
Recently I started to ask myself:  Do I have to live with this body now? Is this, well, mine? OMG, is this how every woman in the world starts to give up and cuts her hair off and retires to her couch in jogging pants?? A few friends of mine have jumped on the plastic surgery train the past few months and its starting to seem so normal, but I just am not really there yet. So recently when I heard about a new no-knife procedure called CoolSculpting I wanted to learn more.
I started looking around for Coolsculpting Reviews and asking myself, does Coolsculpting really work?
About CoolSculpting
Procedures that use laser, sonic waves and even surgery to remove fat can actually destroy other tissue in the process by burning, shattering or extracting non-fat cells. This requires downtime for your body to heal. Totally uncool. Fortunately, CoolSculpting doesn't burn, shatter or extract any cells. Developed by Harvard scientists, our unique, FDA-cleared, patented procedure uses a targeted cooling process that kills the fat cells underneath the skin, literally freezing them to the point of elimination. Only fat cells are frozen. Your healthy skin cells remain, well, healthy. No knives. No suction hoses. No needles. No scars. Once crystallized, the fat cells die and are naturally eliminated from your body. In a few months, boom: say hello to a new you.
Too good to be true, right? No knives? No downtime? Just fat…gone? Alright, Ill bite.
I headed down to The Martin Center, a local facial plastic surgery and laser center here in my town, and the only one that has the CoolSculpting procedure, to check it out. I was a bit self-conscious but it was a beautiful office and they were having a very funny "Bootox" event which meant the entire staff was dressed up in a Halloween costume.
Nothing like meeting a Dr dressed like a Vampire.
After a few minutes, they called me back and I had a discussion with the nurse regarding my trouble spots, what I could expect during the procedure, and she shared the equipment with me. The run down is this if you go to a CoolSculpting consultation:
1) CoolSculpting is NOT for everyone. You will watch a video on the procedure where it gives you some facts regarding it. A few things to keep in mind is that this is NOT for health. You do not get this done because you want to lose weight. It is simply to target stubborn areas of fat and eliminate them.
2) The Dr I talked to said they don't like their patients to have a BMI of over 30%, but ideally like it under 25% before they treat someone. My BMI is 21% so I am an ideal candidate.
3) The nurse showed me a flip book of past results and we talked about my expectations.
4) This is NOT an instant procedure. Unlike liposuction, you do not just go in and wake up with less fat. You are literally freezing the fat, which kills it, where then your body absorbs the cells over 8-12 weeks and eliminates them from the treated area.
5) I was told it was not going to hurt but it would possibly be uncomfortable.
6) CoolSculpting will NOT tighten the skin. The Dr explained that at my age (34) my skin should have some elasticity and the up to 25% fat reduction I should see in that area should naturally reduce my skin but there are other procedures (nonsurgical) that I can do to help that if I am interested. Being a mommy is not for the faint of heart, you know?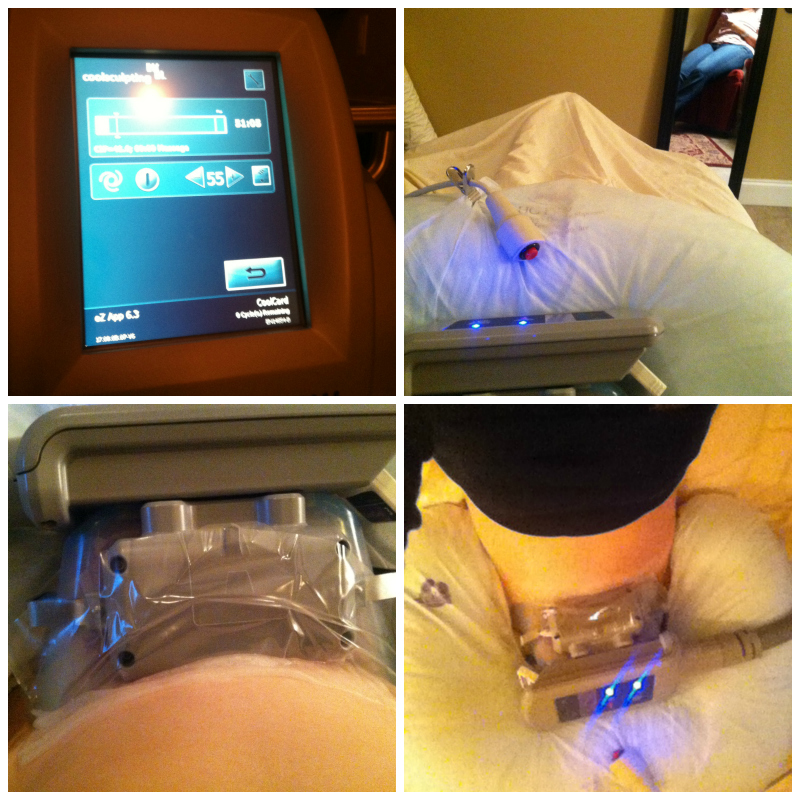 The nurse then measured my body and showed me the suction cups that my fat *cough* was gonna be sucked into. There was some discussion on whether or not I would fit in a large one, but that if I did the large one would cover more of my body and hopefully produce better results. No matter what cup you use, your skin/fat must be able to be sucked in and go past a "fill" line so if you have a shorter span on your torso or less fat in the targeted area you may need a small one.
I was also told that cramps or bruising were normal afterwards and that if kept on for over a week they would give me a prescription.
And while I was getting a little internally worried here about this cramping and bruising, I reminded myself that none of it was the cutting, tearing, or stapling that Shasta did.
Before I left I took some "Before" shots at the office and signed up for my appointment.
Here it goes…this is me.
The AFTER "baby wrecked" body but hopefully the BEFORE of the "best has yet to come" body.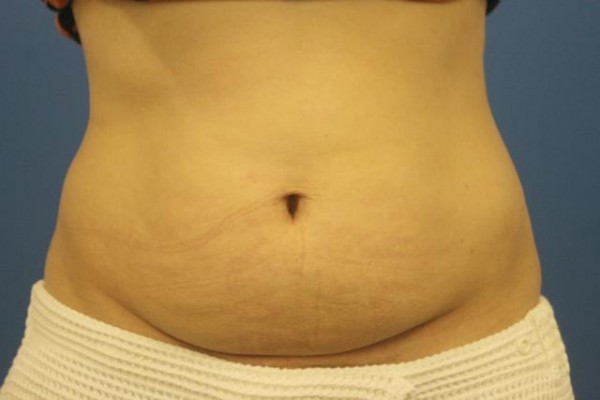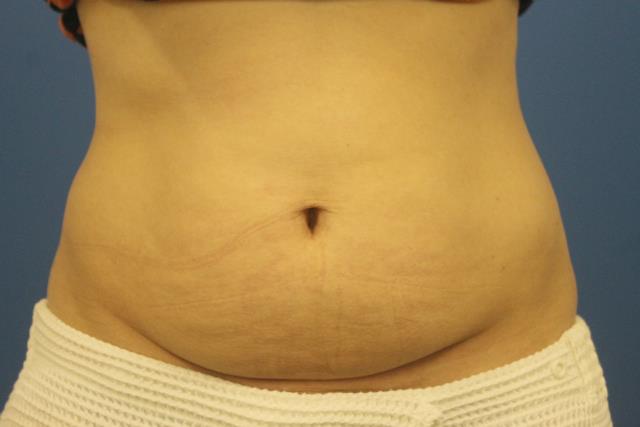 (These are not stretch marks…just jean marks!)
Stay tuned for my experience getting this brand new procedure done and video on how I felt during! I have actually already had it done and boy was it interesting.
Has having a baby messed up the shape of your body?
Have you considered Coolsculpting for yourself? I'd love to hear your review!
Update:
Come see
Coolsculpting Review (has video!)
~Trisha
Disclaimer: I received complimentary treatment from CoolSculpting.
---
BODY SHAPING
Sometimes people are just looking for slimming devices and both of these have really good reviews on Amazon. If anyone has tried them, let me know so I can update here. People are raving about them both on amazon how it helped with inches!
Portable Non-Invasive Body Shaping Ultrasonic RF Massage
Carer Personal Use Cavitation Machine Radio Frequency
Tummy Tuck or Coolsculpting?
Now that you have seen my results with Coolsculpting, come check out my Tummy Tuck Before and After pictures! I had a tummy tuck Sept 15th, 2017 and you can read about it all here step by step to see if this is a good option for you.
Read my entire Tummy Tuck Journey——–>
1) How much is a Tummy Tuck?
2) Tummy Tuck Surgery Day: What to Expect
3) Tummy Tuck Before and After pictures