The Dolly Parton Diet Soup
Every day I watch my friend Kim exercise and eat right. She is on the warpath to cut calories and doing a good job. No-a great job. 37 pounds off in the past year. Our daily IMs read something like this:
Kim: I'm on my treadmill right now.
Me: I'm eating Cheetos.
Kim: After I am done, I am going on a bike ride with the kids!
Me: I'm still eating Cheetos.
---
Inciner8R Fat Burner Supplement Designed for Weight
The Lose Your Belly Diet: Change Your
The Whole30: The 30-Day Guide to Total
smartYOU 7 Piece Portion Control Containers Kit
---
Cabbage Soup Diet Recipe
The sad part is that I eat a well-balanced diet and have always had excellent portion control. But over the years I have gained a pound here and there and here…and well, definitely there. At my very short height, my ideal weight hovers and after I had Charlotte I settled where I was content with it.
Plus, I am short.
No, if, and's, or buts (well, maybe 1 butt) about it. Short equals less weight overall and less weight loss I have to think about. I have fewer bones, blood, tissue, and muscle than people that are taller. Oh, and I have no boobs, so I don't carry weight there at all.  And the truth is, I want a flat stomach.
I can't do a thing about my hips as they adjusted in pregnancy, but I want to wear a bikini if I feel like it. I don't want to be model skinny, but I would like to be Trisha slender. Maybe only short girls will get that.
With my grandmother having just had gastric bypass in April and my aunt having had it last year, I am very aware of what the slow creep up of weight can do to you and I really have to adjust my eating habits, regardless of how good I am at mealtimes, to my current over-30 years old now metabolism. 
Weight loss is something I'm always thinking about, and I've tried everything from a low-carbohydrate diet (goodbye baked potatoes) to miracle soup and even a short bout of paleo.
That means more exercise, more calorie control, and more awareness of what my body can process. I'm not 18 anymore. I can't sit here and drink a coke and eat a piece of cake as a midday snack.
Balanced meals at meal times don't equal a balanced diet. And if I break it down, I have gained nearly 20 pounds of unhealthy weight since college.
That being said, when Kim and I were having this discussion, we started talking about jump-start diets.
I have been through Atkins (this low-carb diet made me sick and nearly pass out), South Beach, and many of my own made-up ones; my favorite being the "Cookie" diet that I did lose about 5 pounds of extra weight on.
Now it would probably give me a heart attack.
It was during our talks that her husband Ed mentioned that we should try the Cabbage Soup Diet.
Apparently, it can help you lose that 5-15 pounds immediately and then you can work on the rest.  This seemed like a quick and potentially efficient way to at least lose some of the bloated water weight, and almost have a "cleanse" type effect.
So we looked it up.
Hmm.
It doesn't look completely awful. And we thought it would be fun to try.  We both have obviously tried just about everything to lose weight.
So we made a pact to try The Cabbage Soup diet (aka The Dolly Parton Diet Soup) together (via IM) and blog our adventure so others know if it works if it doesn't, and how it makes us feel. I mean, is it really water weight?
Does it make you crap your pants?  Once you lose weight, can you keep it off?
We are sure there are people out there that have searched for it and want to know, so we are doing a social experiment. I will be recording everything I eat during the diet (even if I cheat) and will include any form of exercise I do.
First you have to make the soup. Here's the recipe.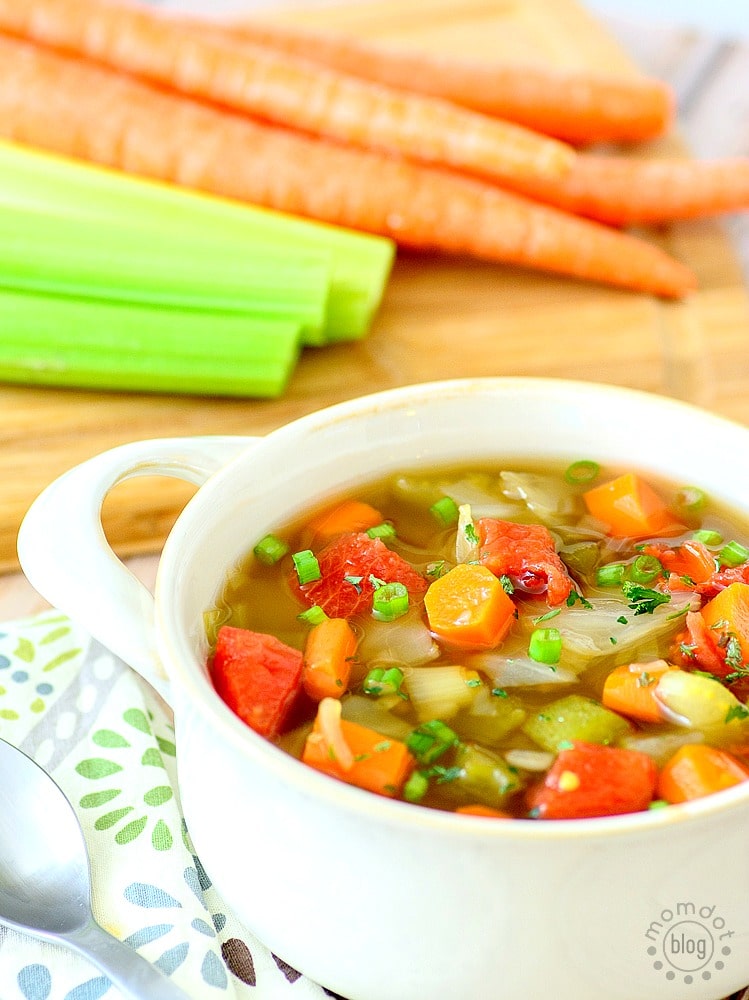 Diet Cabbage Soup Recipe
1 package dry onion soup mix (Lipton's makes some)
2 bouillon cubes, either chicken or beef
1 celery stick (not the whole stalk), diced (some say a "bunch" of celery)
1/2 head green cabbage, diced
3 carrots, sliced
2 bell peppers, sliced ( i only used 1)
6 large green onions, or 1 large yellow, white or purple onion, diced
2 cans of tomatoes, diced or whole
Cooking spray
Salt, pepper, parsley, garlic powder, soy sauce to taste (or any other seasoning you like)
V8 (optional)
Spray a large pot with cooking spray and sautee all vegetables except cabbage and tomatoes until tender. Add cabbage and  12 cups of water or 8 cups and 4 cups of V8.  Toss in bouillon cubes, soup mix, and seasonings. Cook until soup reaches desired tenderness; add tomatoes.  (Note: I personally brought it to a boil for about 10 minutes and then cooked it on low for 1.5 hours)

Cabbage Soup Dieters beware; you may encounter some gastrointestinal discomfort from the highly sulfurous cabbage and other gassy vegetables.
—————————————————————–
The Cabbage Soup Diet Menu – Daily Plan
Day 1: Cabbage soup and all the fruit you want except bananas. Drink unsweetened tea, black coffee, cranberry juice, or water.
Day 2: Cabbage soup, all the low-calorie vegetables you want (except beans, peas, or corn), and a baked potato with butter.
Day 3:  Cabbage soup and a mixture of the above fruit and vegetables.
Day 4: Cabbage soup, up to eight bananas, and two glasses of skim milk.
Day 5:  Cabbage soup, up to 20 ounces of beef, chicken, or fish, up to six fresh tomatoes, and at least 6-8 glasses of water.
Day 6: Cabbage soup, up to 3 beef steaks, and unlimited vegetables.
Day 7:  Cabbage soup, up to 2 cups of brown rice, unsweetened fruit juices, and unlimited vegetables.
The recipe for the cabbage soup varies slightly among different versions of the diet. But it basically includes cabbage and assorted low-calorie vegetables such as onions and tomatoes and is flavored with onion soup mix, bouillon, and tomato juice.
—————————————–
Dolly Parton Diet Soup
Of course, before you start any diet, you need to consult your Dr. to see if it's right for you.
Please don't consider this post a recommendation (as of yet).  There are many online opinions, from Drs to regular people, that it's not a healthy diet (which blows my mind because it's all fruits and veggies), so to be on the safe side, I added a multivitamin for this week.
Now, this is only a week-long diet and if you are considering following along with us, please make sure that you realize this is not a long-term solution to weight loss gain and you will still need to figure out what is causing your weight gain in order to control it.
My ideal weight loss goal is 5 pounds this week.
Kim would like to lose 10 but said she would settle for 2.
We thought it would be fun to document.
We realize it's a fad and crash diet, so spare us the lecture. It's just an experiment. If we come out with 5 pounds off, we celebrate…if we don't, at least we get to learn how to control our farting in public.
So here it goes…Kim and I set out to answer these questions.
Does The Cabbage Soup Diet really work? 
Is the Cabbage Soup Diet good for you? 
Why does the Cabbage Soup Diet work so well?
---
The Dolly Parton Diet Soup is def short-term. If you are looking for something more long-term, try one of these diets and cookbooks to help you plan this year.
We will be sharing our Cabbage Soup Diet Before and After. 
Update:  Below is a recap of what happened to me during my cabbage soup diet along with my results.  This is a brief summary, but if you'd like more information, please feel free to click on each link.
Day 1:  Not too much to report.  I'm excited about the diet and the thought of cleaning out and losing a few pounds.  Day 1 of any diet I've always found is the easiest day of the diet.
Day 2: Feeling a little icky.  You can see by my social media feed, that day 2 is not nearly as fun as day 1.  I also cheat and grab one Starburst.
Day 3: I'm feeling like I'm starving to death in the morning, but better in the evening.
Day 4: I cheated.  I fell off the wagon because I'm a busy Mom on the go, and honestly – it just happens sometimes when you start a new diet.  I vow that things will be better tomorrow.
Day 5: I didn't cheat at all!  Made it through the day.
Day 6: I ate a few extra M&M's, but nothing too crazy.  I'm slowly adjusting to the diet, and it's getting easier.
Day 7: I'm finished!  I liked the diet overall, but days 2 and 3 were the toughest for me.  I lost a total of 4 pounds in one week.  Doctors typically recommend no more than 2 pounds per week to be "healthy" so I would not think of using this diet as a long-term approach.  Overall, I'd call my cabbage soup diet a success.
FAQs About the Cabbage Soup (Dolly Parton) Diet
Q: Does cabbage soup burn belly fat?
A: No cabbage does not burn belly fat, so the cabbage soup diet doesn't burn belly fat either. However cabbage is super low-calorie and healthy, so pairing it with a good workout should help shape that waistline the way you want!
Q: Can I eat eggs on a cabbage soup diet?
A: No, you can't eat eggs on the cabbage soup diet if you want to follow it strictly. However, eggs are such a perfect protein that I would honestly add in a hard-boiled egg here and there next time I do it to make sure I'm feeding my muscles.
Q: What can you eat for breakfast on the Cabbage Soup Diet?
A: It sounds gross to eat cabbage soup for breakfast, but you can have other foods on the cabbage soup diet. For breakfast, you can eat all the fruit you want except for bananas. You can also have black coffee, unsweetened tea, cranberry juice, and water.