Cabbage Soup Diet Results are in! 
Final Cabbage soup weigh in: Did the Cabbage Soup Diet work? Here are my Cabbage Soup Diet Results– Before and after!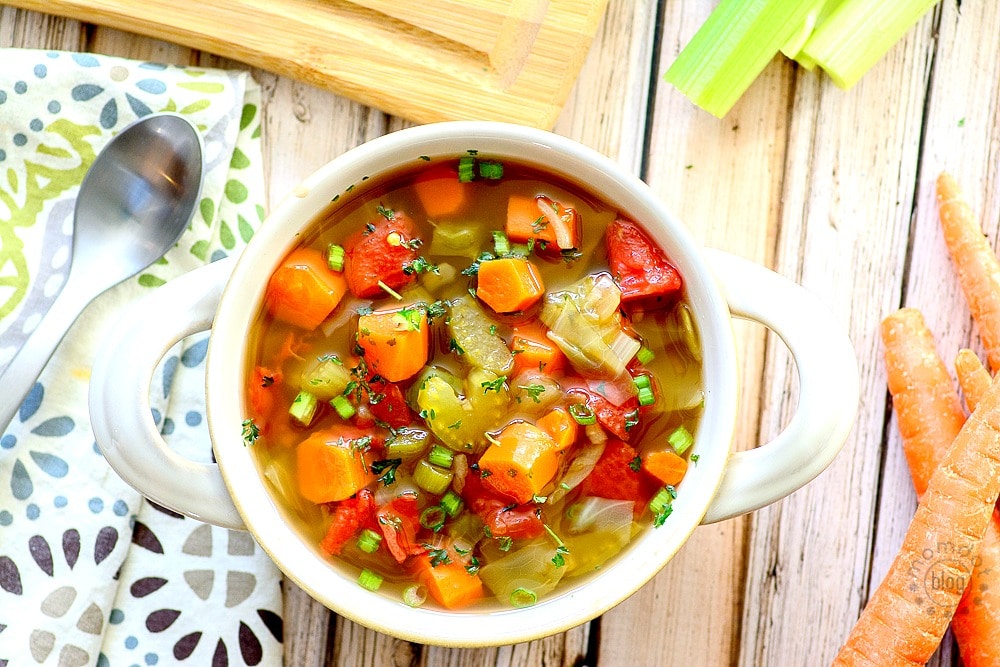 Here it is, my official homemade Cabbage Soup Diet Review. I made it! Kim and I made it an ENTIRE week on the Cabbage Soup Diet.
Before I give you our finals, I want to talk about a few things first concerning this fad diet.
The 21 day Fix is a bit easier! Skip this and Head here to check out the 21 day Fix Plan now!
CABBAGE SOUP DIET RECIPE
• 1 package dry onion soup mix (liptons makes some)
• 2 bouillon cubes, either chicken or beef
• 1 celery stick (not the whole stalk), diced (some say a "bunch" of celery)
• 1/2 head of cabbage, diced
• 3 carrots, sliced
• 2 green peppers, sliced ( I only used 1)
• 6 large green onions, or 1 large yellow, white or purple onion, diced
• 2 cans of tomatoes, diced or whole
• Cooking spray
• Salt, pepper, parsley, garlic powder, soy sauce to taste (or any other seasoning you like)
• V8 (optional)
For this cabbage soup recipe, spray a large pot with cooking spray and saute all vegetables except cabbage and tomatoes until tender. Add cabbage and  12 cups of water or 8 cups and 4 cups of V8.  Toss in bouillon cubes, soup mix, and seasonings. Cook until soup reaches desired tenderness; add tomatoes.  (Note: I personally brought to boil for about 10 minutes and then cooked on low for 1.5 hours)

Personal Reflections on The Cabbage Soup Diet
1) I loved the detox cabbage soup– that made a difference for me. I love vegetables and I spiced it just like taco soup, minus the meat. I'm a big fan of all the vegetables that went in the soup. I used the alternative recipe containing the 4 cups of the V8 juice and 8 cups of water, instead of the 12 cups of water. It made it a lot more flavorful. Also, yes, it makes your house smell like vegetable soup initially. That goes away in a day. My fridge smelled like soup for a week, though, because I left it in the pot with the lid on and put right in the fridge. I am sure if you have Pyrex, or something similar that can be sealed, you wouldn't regret opening your fridge every time.  Unless that was a deterrent from grazing…
2) When you cheat on a diet, cheat in regular everyday eating, really, you only cheat yourself. Don't give up. Just because I had a chip, or a cookie, or whatever I did that stepped out of the parameters of the diet, I didn't allow that to be an excuse to quit or binge eat the rest of the day. Make a plan before you begin that if you have the 'extra', just have it and be done.  Start fresh that minute. Not an in hour, not tomorrow, not on "Monday". Willpower is the hardest part about this low-calorie diet, any weight-loss diet, and everyday eating. You have to want it MORE than you want a cookie.
3) Get a partner. Kim and I don't live near each other, but we talk online everyday. She was someone I could confess to, someone I could complain to, someone I could ask questions to.  We figured things out together. It was nice to have someone to lean on. I also called her a few times to complain. It felt good to have someone go through the same experience with me, someone who knew how it felt and how hard it was to abstain.  She was also someone that would hold me accountable.  There was an element of guilt if I decided to cheat, knowing she was doing this with me.  I couldn't very well have cookies all day long, and then commiserate with her as she lamented the loss of her cookies.  Having a partner adds accountability.  Eventually you'll have an easier time being accountable for your own choices, but right at first, being accountable to someone else can be a great tool.
---
Inciner8R Fat Burner Supplement Designed for Weight
The Lose Your Belly Diet: Change Your
The Whole30: The 30-Day Guide to Total
smartYOU 7 Piece Portion Control Containers Kit
---
4) Take vitamins if you go on a diet. Just to make sure, I took vitamins daily. Sure, they were Flintstones gummies, but I wanted to make sure I had some extra nutrients. When you cut out things your body is used to CRAVING, you need to know in your head that it doesn't NEED anything. Those times I walked in and saw unhealthy things, or even things I love to eat but couldn't, I wanted to know that it was all mental.
5) The first day on the Cabbage Soup Diet (aka Dolly Parton diet) I thought I was starving to death. I am sure you remember. That went away. Once my body had time to adjust, I was fine. No, I did not spend every waking moment in the bathroom. However, I did not suffer from any bowel problems, and neither did Kim. I had the occasional gas bubble in my stomach from eating leafy green vegetables in large quantities, especially the first day, but after that, nada. Absolutely, I understand that this is a high-fiber diet, but I am not sure where all that rumor got started. I was fine.
6) Going on this fad, crash diet helped me realize and pinpoint my exact weaknesses: Those easily forgettable times I would get up and go into the kitchen and take just one bite. Those "one bites" turn into lots of bites by a scale's standard.  Remember: Past the lips, straight to the hips! Helpful Hints: Eat protein, it fills you up. Do not eat to eat. Do not eat because you are bored. Do not graze. Cut up some carrots, grab a banana or other fruit, and bring them to your desk. Honestly, it was just as easy to do that as it was to grab potato chips or any other pre-packaged foods.
7) Make a plan to take water, unsweet tea, or unsweetened fruit juice (cranberry juice was my favorite) with you in the car. Personally, I found that when I had a drink with me, I was less likely to even think about cheating. I also brought fruits and vegetables with me in a baggie in the car when I was out.  Love me some bananas!  Make sure you include drink options in your meal plan.  Remember:  Drinking helps you feel full, or at least not as hungry.  Extra fluids– your body will thank you!
21 day Fix Portion Control – EASY To EAT and LOSE

8 ) Before I did this diet I could have sworn to you, promised you, even, that I could NOT LIVE without a coke, could NOT LIVE without sweet tea. And I would never ever EVER touch something that had the label "diet" on it. I was wrong–I did live. On my honor, I haven't had a soda since last Sunday, haven't had sweet tea since last Sunday.  Believe it or not, I don't mourn the loss of these things as much as I thought I would, actually.  I have tried sweet 'n low and it tastes like pure sugar after 7 days of no sugar. Your taste buds change, they really do.
9) You am the only one responsible for your health.  If I am being completely honest, I was not healthy, I was making bad choices. I don't need to look like a model or some high school teenager, but I would be lying to you if I said I enjoyed belly fat. Or thigh fat. Or picking up the past 4 pairs of shorts and not being able to button the button in them anymore. It's a slippery slope once you start telling yourself its OK, it's just one bite, cookie, candy bar, etc. It's not OK for my health, my heart, or my Charlotte. I have to make lifestyle changes, and this diet showed me that. Eating a healthy dinner after skipping lunch is not 'eating right'. I am not going to let this diet end in the sense that I go back to old habits. Will I indulge in a few sweets now and then? Yes. Will I have a meal that is high in fat, full of all of those comfort goodies?  You better believe it!  But I am going to find better ways to enjoy food and nourish my body properly.  Carrots over candy, bananas over bacon, baked potato over french fries, olive oil instead of canola, low-fat yogurt, etc.  You cannot have long-term weight loss and weight management with a short-term weight loss diet plan.
10) And last but not least, you cannot cheat out on exercising. You cannot diet your way out of that, sad to say.  Don't you hate that exercise always seems to be the answer?! Kim and I both had that problem. You have GOT to do some sit-ups, some jumping jacks, more brisk walking. Hell, mow the law, vacuum for a half hour, walk in place as you watch TV, there are plenty of things you can do— but you have to move.  I got an exercise ball this week and I am sticking to it. It's low impact and I have found that I enjoy it. In other news, I am also off to buy a gazelle this morning. I started doing crunches and sit-ups about 2 weeks ago– I could literally only do 5 (properly). Then I could do 10. As of the day before yesterday, I was doing 35 in a row, without stopping. If 5 is all you can do..do 5. You will eventually move up and meet your goals, but not if you allow your end goal aspirations to overshadow your current ability. My goal is to do 50 every day. I hope in the next 2 weeks to be able to say, "I can!"
So, without further ado, my final weigh-in numbers.
My numbers are not nearly as dramatic as Kims, so make sure you stop by and visit her. Her weight loss is beyond amazing.  I wish that weight loss was a one-size-fits all kind of thing.  We did the same diet, ate the same things, got frustrated with the same issues, yet I can't help wishing my results could be a bit more like hers.  That's why I love shoes, I guess.  A size seven fits one size, no matter how tall or short the person, their metabolism, or even whether a person tried to make it fit– one size fits all sevens.  It's hard not to compare, sometimes.  Please remember that whether you do this with a partner, or by yourself, your results are unique to you.  There are many differing factors that will bring about your end result. Remind yourself that you're doing it to begin a journey of life-long health, not only to see the dramatic losses.  Slow and steady wins the race, and all other references like it.
————————
Cabbage Soup Diet Results– Before and After!
Weight Changes from the Cabbage Soup Diet
Started at 111.8# (approximately 25.6% body fat, 54.5% water weight. I didn't write it down, but I remember it being really close to that. )

Day #2: morning: 110 even
Day #3: morning:  109.2
Day #4: 108.2
Day #5: 107.8
Day #6: 107.6
Day #7:  107.6
Final Weigh in: 107.8# (approximately 22.8% body fat, 56.6% water weight.)

Total weight loss 4 pounds!
————————
My goal was 5 pounds, so I am not far off. Once the easy water weight was lost, I hit a plateau. The rest of any weight loss will come from good old fashioned hard work: continued exercise with better eating habits of low-calorie food, more fruits and non-starchy vegetables, and of course, more water. My goal is to get down to my pre-Charlotte weight of 104.
I will update you in 1 week whether the weight stayed off after I went off the soup and how my habits may have changed.
Thanks for coming on this journey with me.  You can do it!  Stock up on everything you need (to minimize the possibility of cheating), make a meal plan that includes snacks and drink options, find exercise options that you could and will enjoy doing, and begin the mantra in your mind: "I'm doing this for me.  I'm doing this for me.  I'm doing this for me."
---
21 day fix
Since doing the cabbage soup diet, I have found that the 21 day Fix is healthier and a better alternative for day-to-day balancing.  It is my current favorite of the different weight-loss diets. If you do not know about it, read more here. You can pick up the items right on Amazon!
FLASH SALE! smartYOU 7 Piece Portion Control Containers
OFFICIAL Beachbody 21 Day Fix Base Kit Workout
21 Day Efficient Nutrition Portion Control Containers Kit
Autumn Calabrese's FIXATE Cookbook – 21 Day Fix