Tis the season to be jolly! Christmas candy is a must for the holiday season! For as long as I can remember my mom has made Christmas candy galore, loaded that candy onto plates, and shared it with our family, friends, co-workers, teachers, neighbors, and pretty much everyone else in our hometown area. It's well known and everyone loves it!
I'm beginning my prep for the holidays. Part of that prep is deciding what Christmas candy recipes I want to make this year. Together with my family, we love making sweet treats to give to neighbors and loved ones. It's such a wonderful tradition. I may try out these Christmas Can holders to put the candy in, instead of paper plates this year. You can even stuff some stockings with these sweet treats for a great surprise for your family!
Of course, I'll be using many of my mom's famous candy recipes. But I'm always up for trying new things as well. So I've created a list of gift-worthy Christmas candy that might have you drooling this holiday season. You'll find nuts, caramel, peppermint, fudge, and all things in between.
So let's get started!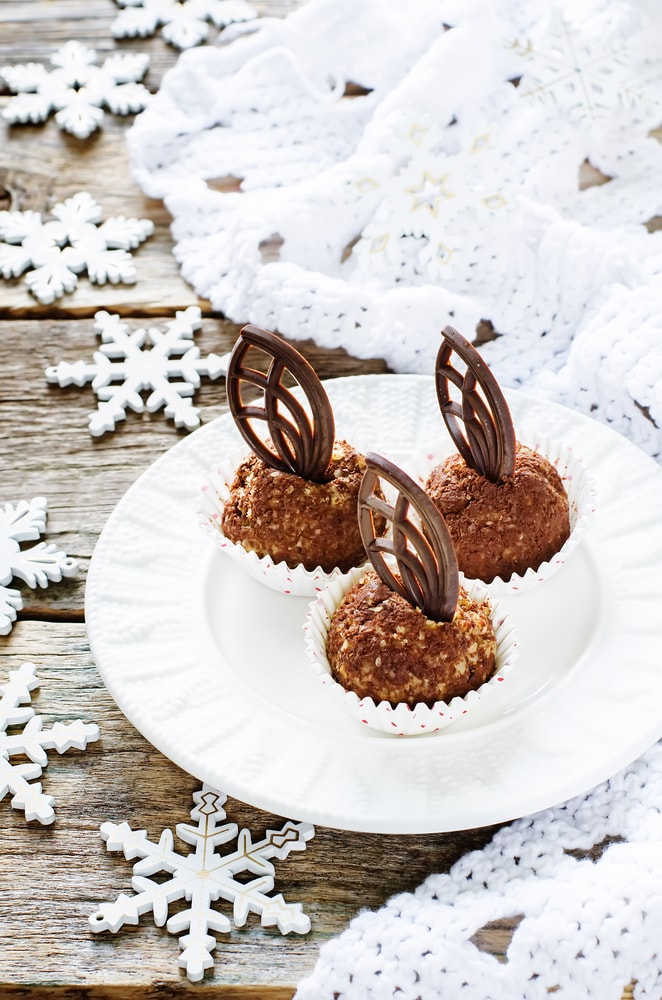 Festive Homemade Holiday Candy
Rolo Pretzel Turtles| To Simply Inspire: It takes simply 10 minutes to make these delicious turtles that will leave your friends reaching for seconds. You have that salty component from the pretzel paired with rich chocolate and caramel.
Homemade Salted Caramels| The Weary Chef: You get the salty and sweet flavors from this caramel. The sea salt really brings out the rich caramel and chocolate flavors.
Chocolate Haystacks| To Simply Inspire: You'll have an easy time making this no-bake treat that only requires two ingredients. Add some festive holiday sprinkles and it will be a perfect addition to your candy platter.
Candy Cane Fudge| It Bakes Me Happy: Smooth and creamy peppermint fudge that gives you a refreshing and cooling flavor of the peppermint. Not to mention, you get a nice crunch from the peppermint bits inside.
Brigadeiros Chocolate Fudge Truffles| Bite into this decadent and creamy truffle that is rolled in sprinkles. Add any sprinkle to fit your holiday style and you will have the perfect candy.
Vanilla Buttercream Candy| Our Table for Seven: If you have had Fannie Mae you will be familiar with these rich and creamy candies. It's a creamy buttercream filling that is dipped in rich chocolate. Add some green and red drizzles on top to make them look extra festive.
Christmas Candy Corn| By Pink: You get that ooey-gooey marshmallow candy-coated candies and more to make these one scrumptious and sweet treat.
Healthy Chocolate Rum Balls| One Clever Chef: These rum balls are a healthier version of the classic that you find around the holidays. These are a no-bake treat that will melt in your mouth.
Coconut Truffles| Utensi: Truffles make such a decadent and perfect gift to give to friends and family. Rich in flavor and perfectly bite size.
Gingerbread Holiday Fudge| Living Sweet Moments: This fudge has that ginger spice factor and is dipped in rich white chocolate and decorated to fit the holidays.
Peanut Butter Balls| Mom on The Side: You have the nutty flavor from the peanut butter, that is sweetened and dipped into rich dark chocolate. These are a must for the holidays.
Santa Reindeer Chow| The Baking ChocolaTess: A puppy chow based mix with lots of sweets inside to make an adorable mix that is considered reindeer chow.
Christmas Marshmallow Pops| Two Sisters Crafting: You have a no-bake treat here that kids will love. Soft marshmallows dipped in chocolate for the perfect treat to bite into after a long day.
Microwave Caramels with Sea Salt| Dinner at the Zoo: These caramels couldn't get much easier, you make them in your microwave! Quick and easy and the creamy flavor paired with the sea salt works beautifully together.
Chocolate Covered Cherries| Cincy Shopper: Chocolate covered cherries are one of the top goodies to buy around Christmas. This version has that sweet creamy filling dipped in milk chocolate.
Dark Chocolate Cranberry Bark| Fancy Shanty: Rich dark chocolate with dried cranberries, coconut and slivered almonds on top.
3 Ingredient Raffaello Coconut Balls|Happy Food Stube: These balls are rich and decadent, and full of coconut flavor with an almond in the center. So simple to make.
Cookies and Cream Fudge| High Heels and Grills: So many different varieties of fudge are around to make. You will love this cookies-and-cream fudge, it's packed full of cookie bits and velvety fudge.
Chocolate Covered Peanut Butter Cracker Sandwiches| Shaken Together: I know this might sound weird but crackers smothered in peanut butter and dipped in white chocolate really is a tasty treat. The lightly salted crackers help bring out different dimensions of flavors.
Eggnog Fudge| Baking Beauty: If you are a fan of eggnog or know of someone who is, this fudge is a must make. You get that eggnog taste with warm nutmeg when you bite into it.
Have a great time making up some Christmas candy along with some memories this season. Let me know in the comments which ones were your favorites!
~Kimberly
Other Christmas Candy Recipes from us
Santa's Lumps of Coal: A Simple Cookie Recipe
Peanut Butter Oreo Truffles: A Quick and Easy Recipe