How to make saline slime so you can get to making the ooey, gooey, sticky fun kids are talking about everywhere. Banned in schools (HA!) the past year, slime is hands down one of the most fun science projects you can make. Now many parents have been scared to let their kids make borax based slimes ( I personally find them harder to make) or starch based slimes  (my favorite – learn how to make rainbow fluffy slime here! ) and honestly there really is no reason not to know how to make slime when done correctly.
That being said, all science projects, even this saline solution slime for kids, should be supervised by a parent. No matter what kind of slime ingredients you choose, there are endless creative ways to play and enjoy slime.
HOW TO MAKE SALINE SLIME
Before you get started on saline slime,  you will need a few things! Its always best to be prepared. I buy all my slime supplies on Amazon and here is a list to help make your life easier.
Newest saline solution stretchy slime
White Glue (1 cup) NOTE: We buy ours in a gallon, its a lot more cost effective. You cannot get this anywhere but online usually so grab it here
Water (1/4th cup)
Baking Soda (1 tsp)
Saline Solution ( 1/2 tablespoon)
Bowl, spoon for mixing
Colorant (I use Wiltons Color Performance Right for ALL my slimes here on MomDot, BEST results for bright colors!)
Saline Solution Fluffy Slime Alternative
How to make Saline Solution Slime Homemade
First you need to decide if you are making stretchy saline slime or fluffy saline slime.
Depending on which one, grab the ingredients above, the main difference being that one includes shaving cream. It takes time and a little bit of patience to get slime right!  Starch, Borax and Saline slime is a science experiment and it can get MESSY! Personally, I find that half the fun.
Pour 1 cup of white glue into a bowl.
Add 1/4th cup water and stir until combined.
Now add 1 tsp baking soda
 and your color dye. I use Wiltons Color Right
 because it doesn't thin out my glue.
If you are making saline solution fluffy slime, add shaving cream at this point.
Once you have your color and your glue ready, its time to add your saline solution.
In our experiments, 1/2 tablespoon saline solution is the best consistency at the end.
If you over add shaving cream, you may need a little more, so add a tiny bit at a time till you get the right consistency.
You add to your bowl and stir.  Keep stirring. Once the sides of the slime start to form away from the bowl, you can go to kneading in your hands.
Roll the slime around your hands and back and forth until it no longer sticks to your hands. This can take approximately 5 full minutes.
Want to learn other ways on how to make slime?
Every recipe yields something different and is so much fun. Click on the image below to see more of our slime recipes!
How to make Fluffy Saline Solution Slime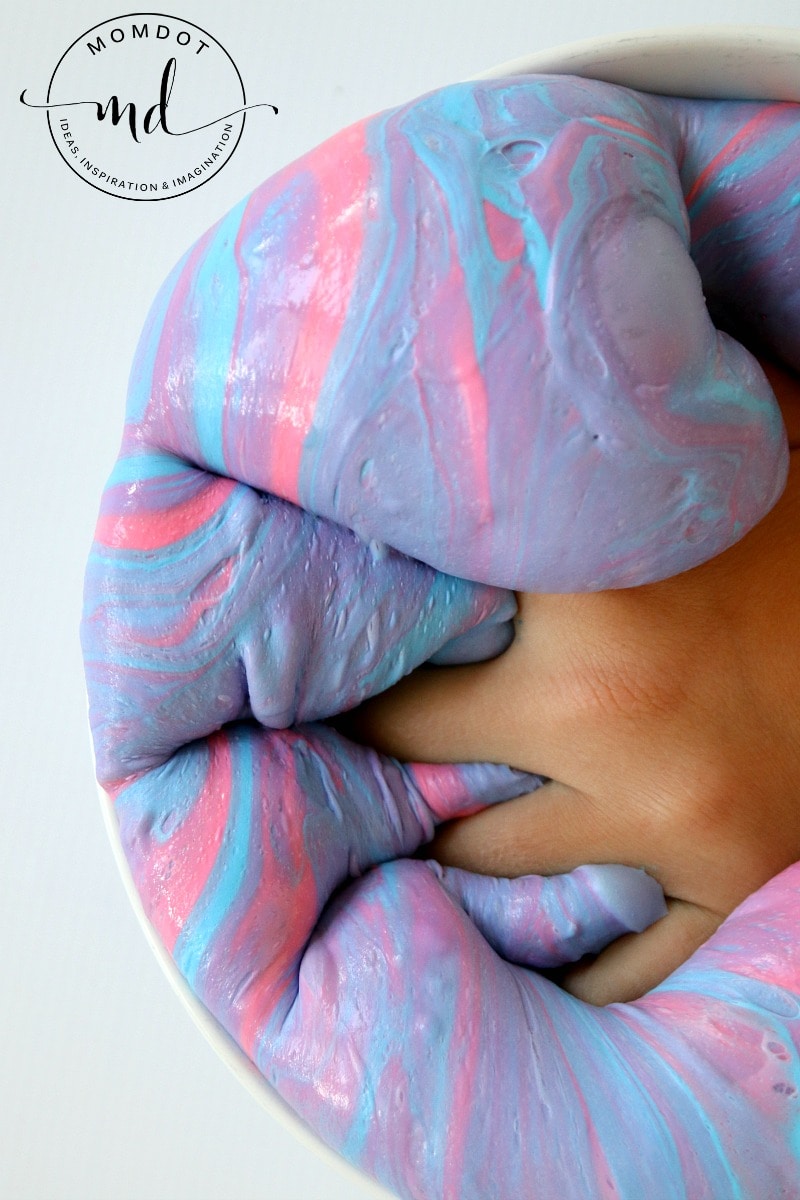 How to make Slime Video
want to see how slime is made? This short video will give you the skinny on making slime with glue and starch and how unbelievably easy it is! I hope this inspires you to get your slime made!
Having Trouble Making slime?
This video is a longer video that shows you how slime comes together. Many people believe that slime is instant but it can take some time to mix up and kneed. This video will help you understand what you are doing wrong- OR right!
How to make Bubbles with Slime Video
Making bubbles is SO much fun with slime! Learn how to make bubbles alone or with a friend. Who can make the biggest bubble?
Kinetic Slime
We experimented with creating a kinetic slime that sticks together. Come see how we did it!