Kids slime-addicted?  Try a new version to keep play interesting – fluffy slime!
If like me, you thought the slime craze was going to die down after it's explosion this spring, it seems you were wrong.
Nearly every store I visit these days is selling gallon jugs of glue, and I'm not just talking about the warehouse stores.  However, if you've tried some slime, fell in and out of love, but the kids are still clamoring for more, a new variation on how to make slime might be just what you're looking for.
Enter, fluffy slime!
---
SLIME BOOK AVAILABLE!!
Love the Slime Recipes on MomDot? Our first book has been published and you can pick up a copy right on Amazon for yourself or to gift to a slime fan in your house! It features not only some fun basic slime recipes and how to get started on creating your own, but also some ways to use slime for holidays and gifts! Check out the book here! 
---
What is fluffy slime?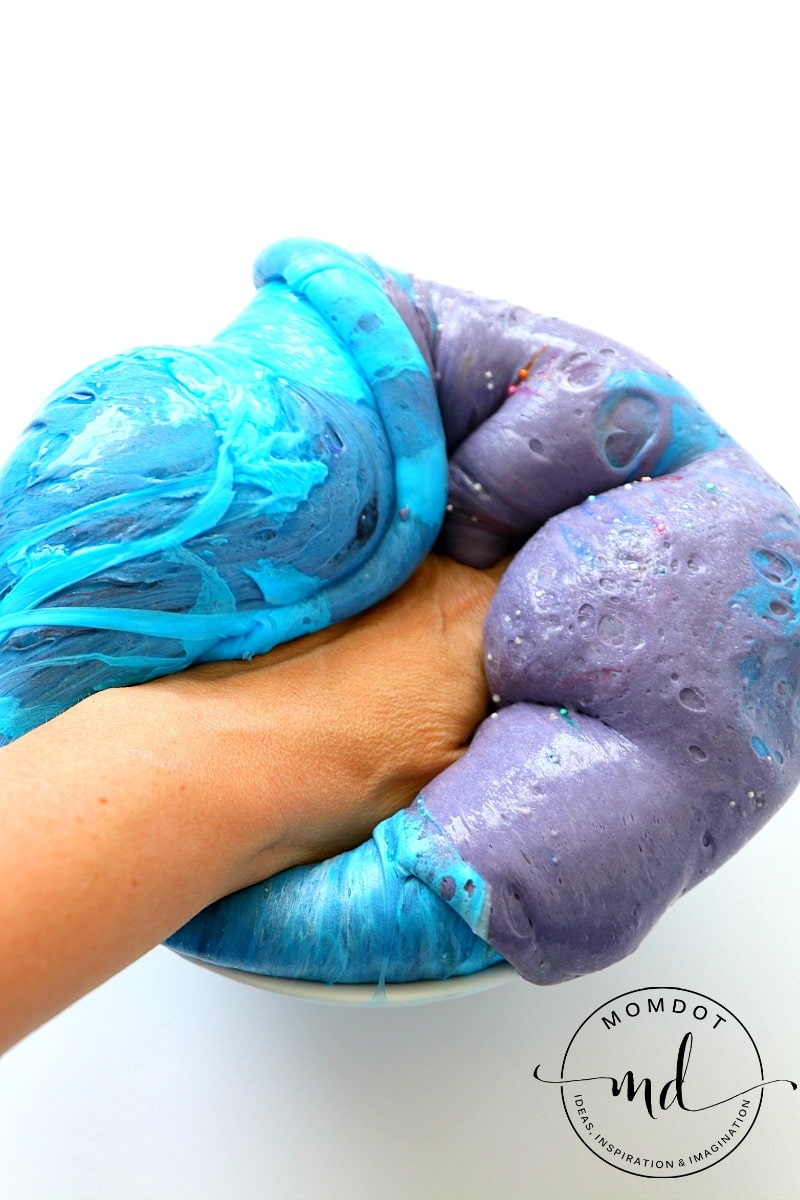 Using slightly different ingredients, namely shaving cream and saline solution, fluffy slime is a voluminous, light-textured slime that looks as appealing as it is to play with.  It's still easy to make with regular household ingredients, and it is a fantastic way to occupy the longer summer afternoon hours.  For kids (or parents) who love sensory play, adding this recipe to your toolbox is a must.
While some brave parents are ok with a hunk of slime in the car, I prefer our traveling slime recipes to be contained in a sealed plastic bag.  Under those conditions, this can be a great break during one of those long summer road trips or visits to Grandma and Grandpa's house.
How do you make fluffy slime with Saline Solution?
Elmer's Liquid School Glue, Washable, 1 Gallon,
Equate Contact Lens Saline Solution for Sensitive
Wilton Color Right Performance Color System, 601-6200
Barbasol Original Thick and Rich Cream Men
 Supplies are important in every craft project and being prepared is half the battle.
To get started, you still need the traditional slime ingredients, minus the starch. For us, that is a Gallon of Elmer's Glue
, Saline Solution, a colorant if you want it to have color (I prefer Wilton's Food Coloring
) and for this, the additive that makes fluffy slime work, extra moisturizing shaving cream
.
 I always use GALLON SIZED GLUE. Tiny bottles do not produce a lot of slime and this is an addicting project. Go ahead and get the gallon size. You cannot find this in stores.
Food coloring (OPTIONAL) I use Wilton's Color Right for the best and brightest results- a lot of colorants can thin out your slime and this doesn't
There are lots of different recipes for fluffy slime, and you can easily tweak most to slightly change the consistency – more or less sticky, etc.  If you're trying to avoid contact with Borax (the jury is still out as to whether this is necessary or not), fluffy slime is perfectly Borax-free (although it does include boric acid within the saline solution)!
What you need for this fluffy slime recipe:
Elmer's glue
Foaming shaving cream
Baking soda
Food coloring
Saline solution (Be sure it includes sodium borate and/or boric acid on the ingredient list)
Baby oil

Bowl, spoon, measuring cup, teaspoon, tablespoon
Add ½ cup of glue to the bowl.  If you're using the typical school-sized bottles, this is the entire bottle (4oz).  If you're working from the big jug, try coating your measuring cup with a drop of baby oil to keep the glue from sticking.
Add food coloring as you like.  You'll be adding a lot of white shaving cream to the mixture so if you want a particularly dark or bright color, add more than you think you'll need.  You can always add more later, but it can get a little messy once the slime starts to come together.e
Stir to mix the color in the glue.
Add 3 – 4 cups of shaving cream to the bowl.  Experiment with different amounts of shaving cream as it does change the overall texture of the slime when you're done.
Measure a ¼ teaspoon of baking soda and 1 tablespoon of saline solution and add to the mixture.
Stir and knead until the slime comes together in one ball.
Once the slime is in one mass, add a few drops of baby oil to your hands and knead it into the slime.  This will keep the slime from sticking to, well everything.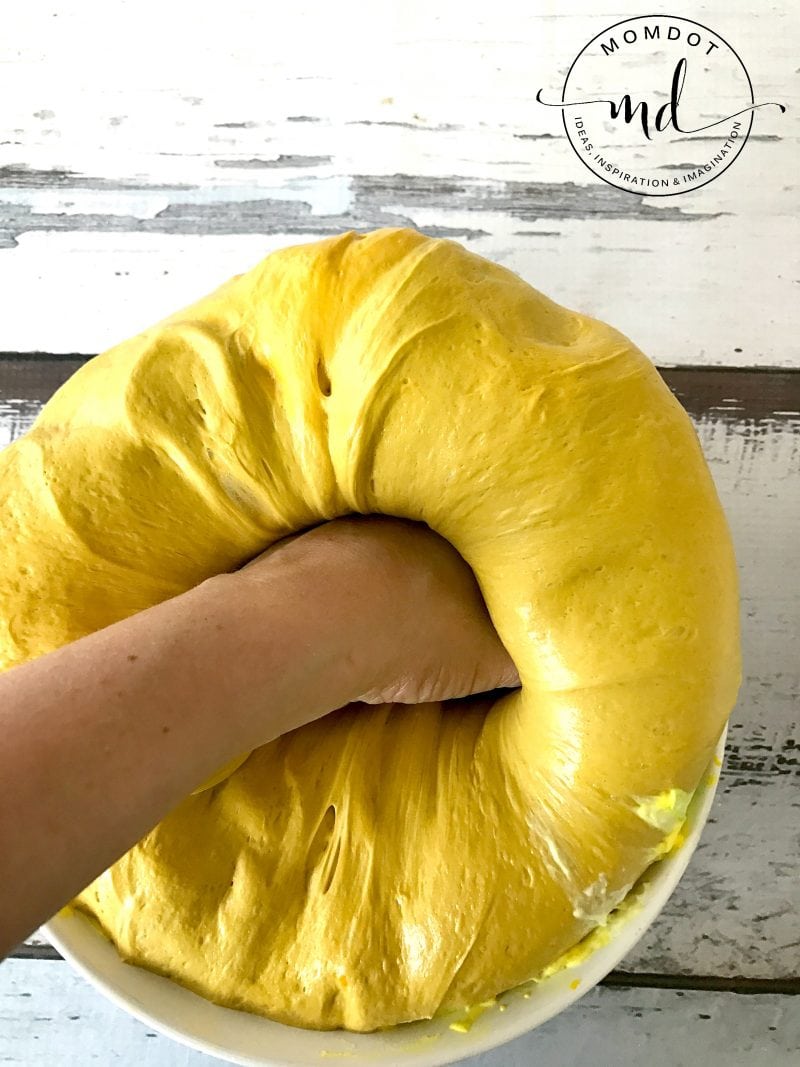 See how slime is made in this helpful quick video
If you are still having trouble, talk to me and see some of the stages! Check it out~
To make the slime come together and be certain the necessary chemical reaction happens to give slime the texture you want, don't deviate too much from these ratios of ingredients.  But, by all means, experiment somewhat if you're looking for a slightly different texture.  If your slime is too runny, too stiff or sticks too much, you may need more or less shaving cream, saline or oil, etc.  The overall texture of your slime can also change due the humidity and temperature of the room you're working in.
If you're a visual person, check out this video!
What's the science behind slime?
My kids are often resistant to summer activities that feel too much like "school."  Instead, as you whip up your slime, try to incorporate a mini-science lesson, encouraging kids to make observations and predictions about the slime.  Kids of any age can even start to understand the science behind it's texture and how the texture relates to the ingredients (if you're REALLY into science, you can start to talk about molecular makeup!). Even adding extra ingredients can be a lot of fun to discuss, like this Sand Slime!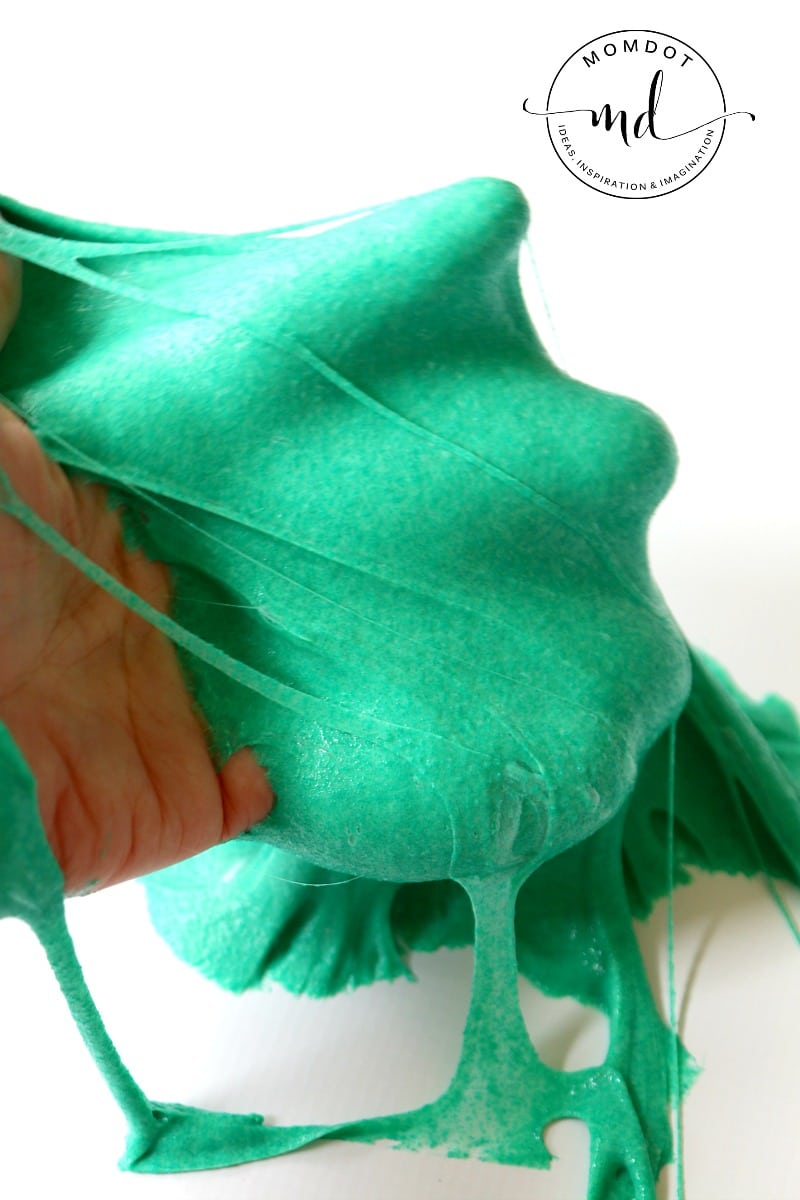 Any type of slime, regardless of its specific ingredients, is considered a non-Newtonian fluid.  This means that it has a unique structure, sometimes mushy and fluid and sometimes stiff and almost rigid.  This is due to the chemical reaction between the vinyl in the glue and the boric acid in stuff like Borax or saline.
Typically, the vinyl polymers in the glue glide along next to each other peacefully, but when boric acid enters the equation, it forms unique ions that bind to these polymers and keep them from flowing back and forth.  When enough polymers get joined to enough ions, the slime texture starts to stiffen up.  When you stop squishing on the slime, the bonds between the ions and the polymers relax and break, and the slime relaxes too.  Squish it and form the bonds again.  So cool!
What is slime good for?
Like its regular slime counterpart, fluffy slime offers kids an incredible tactile experience, but with a twist.  Fluffy slime is somewhat more stable than regular slime, making it a bit more moldable into various shapes and designs.  The lighter texture makes it perfect for (and rather irresistible to) stuffing your fingers inside.  However, this type of slime does tend to stick to your fingers somewhat as you work with it.  Test different amounts of baby oil in the final step to try to control sticking.
Fluffy slime is best used the day you make it, after sitting out it loses volume and much of the light texture.  When play for the day is done, discard it.  You can always make more!
While my kids love any slime, I'm a little turned off by the cold wetness of traditional slime or stuff like oobleck.  However, I think this fluffy version is irresistible!  I love that I have most the ingredients at home anyway or I can easily purchase what I need at your grocery store (I even spied those jugs of glue at my local market!).  This means just about any day can be a slime day!
Have you whipped up some fluffy slime?  What did your kids think?
More Fluffy Slime Recipes
There are so many choices when it comes to slime recipes. We have experimented with several ways to create saline solution slime, so make sure you check out the how to make fluffy slime with saline solution ( a totally different recipe) and how to make saline solution slime (again, a totally different recipe) so you can figure out which consistency you like the best. Each tutorial comes with new ways to create this slime since some people like it sticky and some fluffy and even some more flubber!.
More Slime Ideas
Looking for more awesome fun? Try one of these amazing slime ideas and recipes to get going!