Slime Painting: Slime Recipe perfect for Painting, Canvas Painting and an awesome sensory experience! Scroll below for your Slime Painting Tutorial on canvas and a video!
Slime is so fun to make on its own but lately we have been experimenting with all the fun things you can do with it other than just making it. Making a painting with it, hands down, is my absolute favorite thing so far. Of course if you are looking for other fun how to make slime recipes and what to do with them, do not leave without trying the Ultimate Fluffy Slime, the Rainbow Explosion Slime or the Kinetic Slime either. Now lets get started on Slime Painting!
(P.S. Video Below!)

Slime Painting: Ingredients
Every slime recipe has a set of ingredients you need. This one is a super simple recipe and while it requires very little ingredients and skill, it can take some figuring out to find just the right amount of flow. Remember that creating slime is a science experiment more of an art, so do not be afraid to put a little more of this or a little more of that to get the results you want. In this case, you need 3 main things no matter what:
---
Clear Glue (finding this in a gallon is HARD so you can see if they have it here…if you find it, GET IT! Otherwise you can get smaller bottles)
This is the clear glue we use here  (not always in stock!) or buy the Elmer's Clear Glue (NOT WHITE)
Starch – again another one of those items that isn't always easy to find
Food Dye– I only use Wiltons Color right because it has produced a consistently beautiful slime for us, its the best and can be used in your dessert recipes too
sprinkles (optional)- On this one I used huge big ball sprinkles, you can also see them in the Birthday Slime
Purex Sta-Flo Liquid Starch, 64 Ounce
Wilton Color Right Performance Color System, 601-6200
NOTE BEFORE WE GET STARTED: First when it comes to slime, please know that its a science project. It shouldn't be done with really tiny children or kids that put things in their mouths. Maybe dyed spaghetti is better for the little's. At the end of the day, slime is a fun project but also one that you should create with caution.
Slime Painting: Making the slime
We want this slime to be MESSY. When you work with CLEAR GLUE, it has a super fast flow and it doesn't take much to get it going. That being said, you still want it to be sticky and runny so it can go through the colander, but have some stick power so its not just liquid.
What we do is pour about 1 cup of CLEAR GLUE (do not use white, it wont work the same) into a bowl and approx 1/2 cup starch. Then stir.
It should form into a ball and not stick to the sides of the bowl when you stir but still be goopy. Feel free to adjust with more starch if you want to harden it up a little bit.
Slime Painting: Canvas Painting
Now the fun part! We made three colors to use on our slime painting (like our Unicorn Slime with Clear Glue). Sit your colander
down on top of your canvas FIRST. Then  pour your three slimes in side by side to a clean colander. Now pick up your colander and let the slime flow out. Slowly move the colander around the canvas and create a picture!
(SCROLL DOWN FOR VIDEO)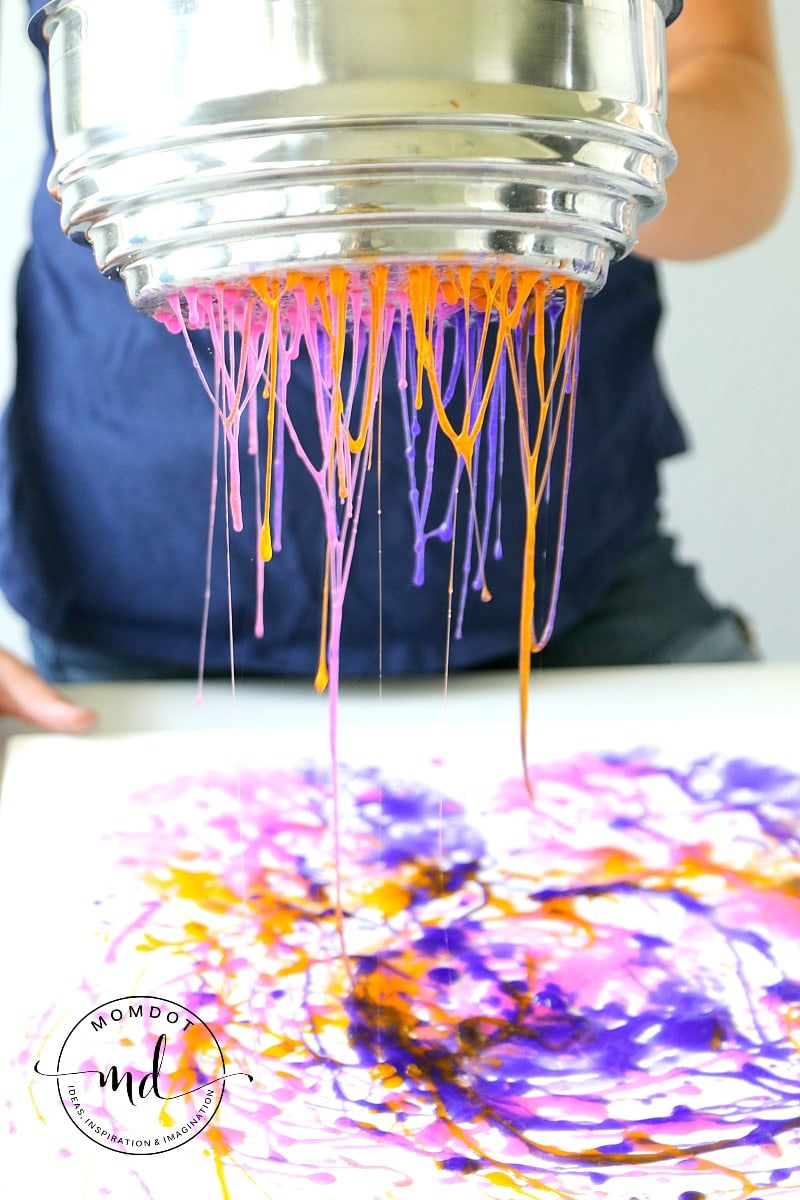 Slime Painting Video
This is the first time we attempted this experiment and it was done in green slime, but should give you an idea how fun this is! I will update soon with footage from the colored slime or you can check my instagram page to see it.
Need more Slime Ideas?