When it comes to slime, you can never get enough. That is our mantra anyway and why not! We have made the ooey, gooey, sticky slimy fun for nearly every season and with a variety of colors and scents like Peppermint Slime, Halloween Slime (Slime without Borax), and Pumpkin Slime. And I wanted to make sure I showed you that you can use all those slime recipes by altering just a tad bit to make Glow in the Dark Slime! It's just as simple and fun and brings an added element of giggle when you can play in the dark.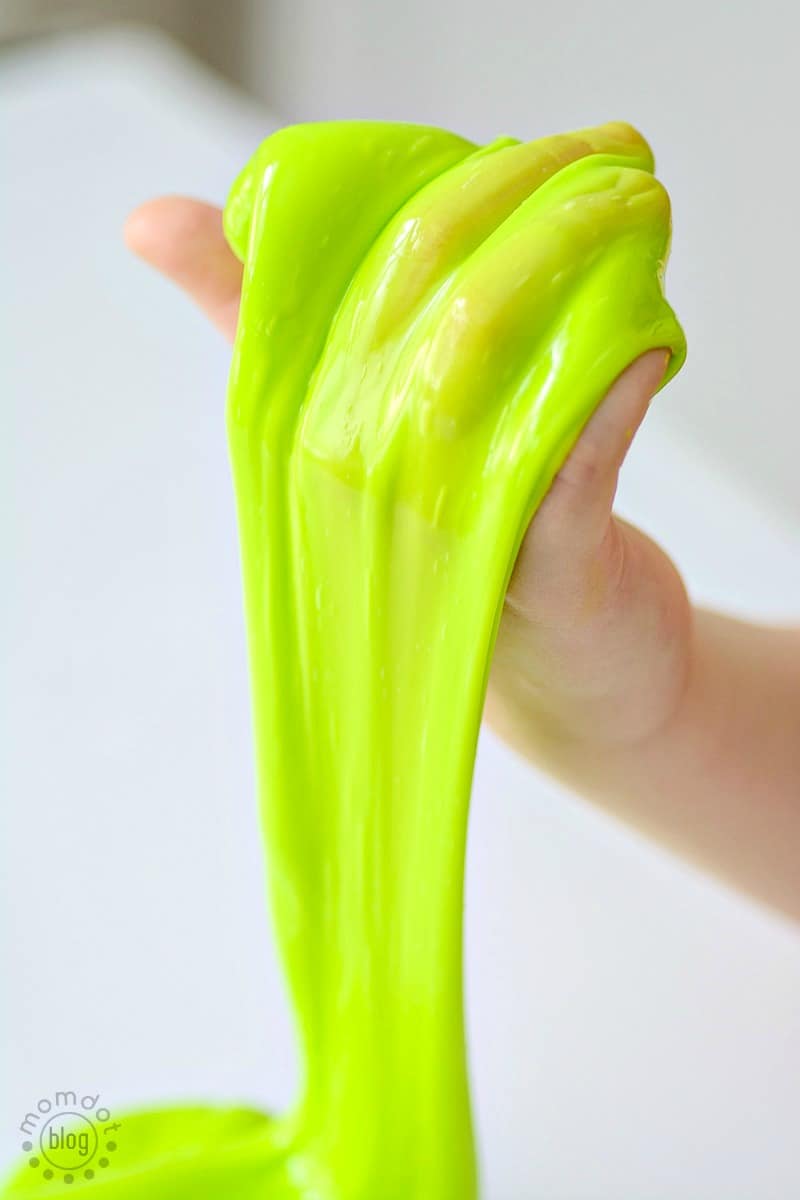 ---
SLIME BOOK AVAILABLE!!
Love the Slime Recipes on MomDot? Our first book has been published and you can pick up a copy right on Amazon for yourself or to gift to a slime fan in your house! It features not only some fun basic slime recipes and how to get started on creating your own, but also some ways to use slime for holidays and gifts! Check out the book here! 
---
Glow in the Dark Slime Recipe
First you need our basic slime recipe. These ingredients work for the creation of nearly every slime and its the adding to it that makes the slime extra unique. To learn more about this basic recipe, you can head to Perfect Slime Every Time.
Now how to make it glow in the dark slime at home? Its so Easy!  Just follow directions above, only add 2 tbsp glow in the dark gel
and 3 drops of neon green food coloring
to the glue mixture before adding the liquid starch.
---
Slime without Borax
Purex Sta-Flo Liquid Starch, 64 Ounce
PRO TIP: Many people do not like to deal with borax and water when making slime. You can also make slime by using LIQUID STARCH and glue. It's a ton easier. Simply use about 1/3rd cup starch in 1/2 cup glue and add starch little by little until you get the slime consistency you want. Once it's set, then separate the white slime and dye the colors you want in solo cups.
It can be pretty hard to find liquid starch, so pick this one up here (it's the one I use) as well as a huge thing of glue so you can make tons of slime for all occasions. Buying this way is a lot more cost effective and once you start making slime, you will def want to have glue on hand!
&
Purex Sta-Flo Liquid Starch, 64 Ounce
Elmer's School Glue, Washable, 1 Gallon
---
Learn How to Make slime and get more Slime Recipes here!