Are you looking for some easy and affordable valentine ideas? Here are some really fun and low cost Dollar Store Valentine's Day Craft Ideas. From gifts that you can give to a friend to ways to decorate your home, all of these crafts below are easy to make.
Valentine's Day gifts don't have to be expensive, you just have to get creative. If you don't live near a dollar store, many stores like Target or Walmart carry dollar bins that have fantastic and fun ideas that can easily be made into a craft or gift. So whether you don't want to send your child to school with the same Valentines card every other kid is passing out or you can't find the perfect gift, below I have curated some great inspiration to creating your own awesome ways to celebrate the season of love.
Valentine's Day Gift Ideas
Valentine's Day Decorations for Home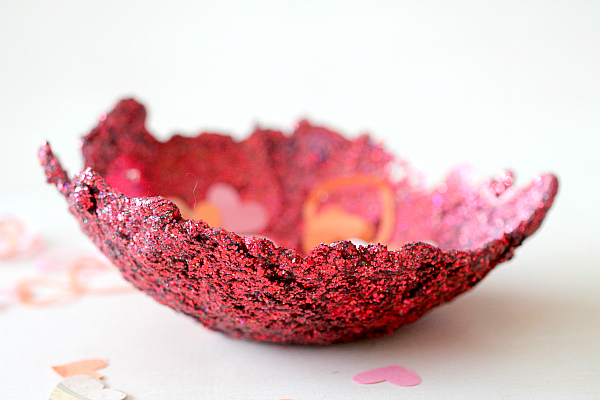 Kid Valentines
Tic Tac Toe (Atkinson Adventures): How fun is this awesome Tic, Tac, Toe (literally!) game to put in a lunch or pass out to kids at school?
Toilet Roll Creature (Kid Friendly Things to Do): Start saving those toilet paper rolls now, and with a few crafting supplies you can have these adorable toilet roll creatures to give out!
Cupids Arrow Pencil Toppers (MomDot): So easy to turn pencils into arrows for a fun and unique way to pass a prize out
Playdough Lollipops (Mama Miss): Okay this one is so neat, give some play dough along with a printable so they can learn how to make a lollipop! I don't know what child wouldn't love this!
Free Braille Valentines Printable (MomDot): Pass out a unique Braille Valentines by adding homemade candy dots that spell words to the sheets. Download for Free.
You Make My Heart Glow Stick Valentines (First Grade with a Cherry On Top): What a fun way for kids to give their classmates valentines. Who doesn't love a glow stick?
Watercolor Valentine (Smart School House): With a free printable, watercolor, and some string you have this one of a kind darling valentine!
Pin Wheel Pencils (MomDot): Just a little bit of folding and done! Turn your pencil into a present
Extra Cool Gum Valentine (Crafting Chicks): This is so creative, I love the idea of handing out a little pack of gum! This is very inexpensive but so creative!
Mad Libs Valentines (MomDot): My own valentines day ad lib printables. Download free here!
Kinetic Sand: Learn how to make Kinetic Sand which makes a fun sealed gift for kids too.
Valentines Day Boxes
Hey parents, did you know that you can buy Valentines Day boxes aalreadydone or even a kit? Although I am a crafter, sometimes I cannot stand school projects and the rush the night before, so I love these pre-made kits that make it easier for my kids to be creative. Check out some of these and head over to see more:
Valentine's Day Mailbox Decorating Kit Donut Space Cat
Valentine's Day Mailbox Decorating Kit Dinosaur
Amscan Adorable Valentine's Day Party Decorate Mailbox, Multicolor,
Valentine Classroom Sharing Ninja Card Holder Craft Kit
Valentine's Day Mailbox Decorating Kit Hotdog
Valentine Classroom Sharing Owl Card Holder Box Craft