Ectoplasm slime is a fantastic Halloween slime that drips, oozes and goos all over! It's not one of those traditional slime recipes that you can blow bubbles with or gets off your hands easy, but rather a true sensory experience that is perfect to add Halloween toys (as seen below) to! For some extra family fun, you can make this ectoplasm slime while you watch Ghostbusters
!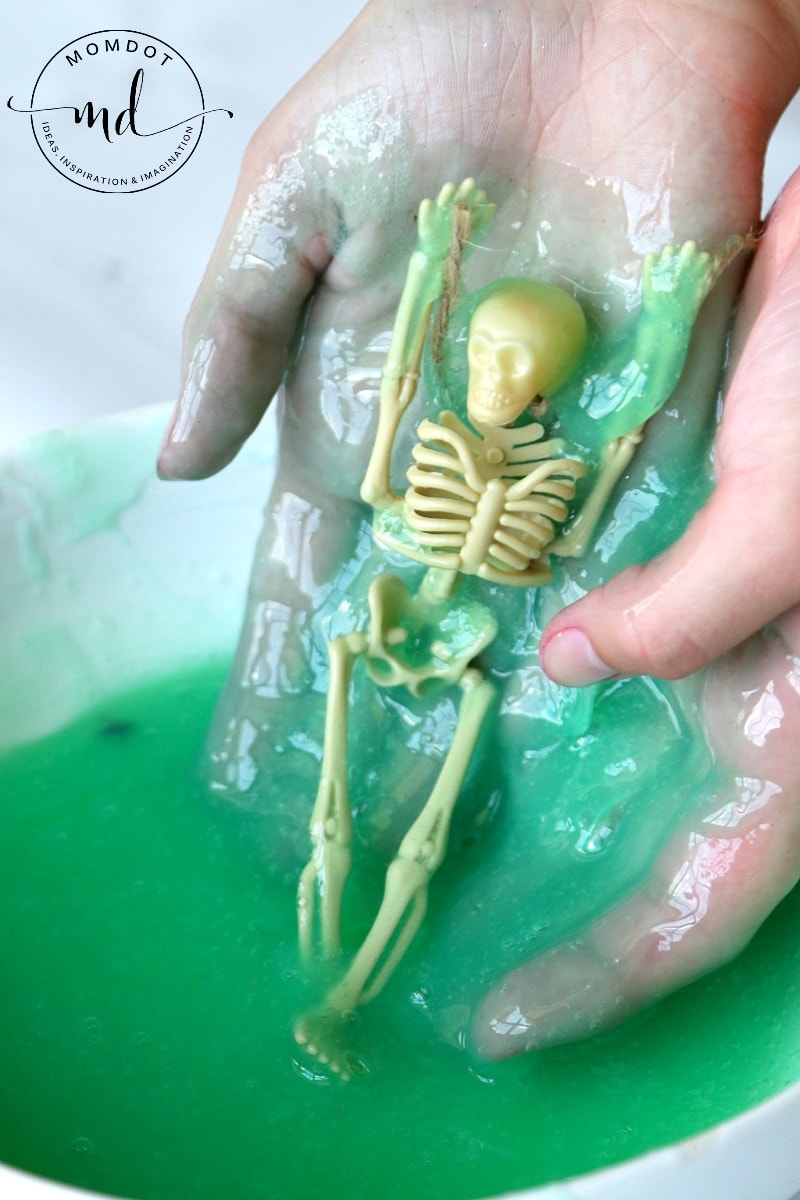 To make this super fun Halloween slime, you need to know a few things. First, this is not a traditional slime where you take it to completion and it no longer sticks to everything! This slime is meant to be the "before" so its super gross like fake snot or ectoplasm. This time of the year I like things to be super disgusting and this does not disappoint. If you want something that isn't sticky, learn how to make slime here, which showcases and teaches you all the ways how to make slime.
In this case, I also wanted to make sure that it stayed a really clear type slime so you will need to get
Clear Glue (finding this in a gallon is HARD so you can see if they have it here…if you find it, GET IT! Otherwise you can get smaller bottles)
Saline solution
Food Dye– I only use Wiltons Color right because it has produced a consistently beautiful slime for us- to get colors like this I recommend it.
There are other optional items to adjust your consistency of your slime listed below in the TIP area
How to make Ectoplasm Slime
Again, before you make this, realize that this is a drippy slime and WILL STICK to your fingers! Simply rinse off your hands when done playing and perfection!
Start with your clear glue
. Pour approximately 1 cup in a bowl. We wing this and do not measure, its not important to be perfect.
Now add your food dye. If you do not have food dye, you can typically use a bit of green paint. Stir until dye is combined.
Now add saline solution
– start with approx 1 tablespoon and stir. The ectoplasm will start to form. You can adjust the amount of saline solution you add to make it more or less sticky. We were pretty happy with our dripping slime.
TIP WHEN MAKING SLIME: If you want it to stick a bit less, combine approx 1/2tsp of baking soda and a tablespoon of saline into a bowl and mix. Once combined, pour into your glue and mix- this will thicken up the slime. The only downside of baking soda is that its white and can take out some of the coloring of your slime, in which cause you may have to adjust. Reading this article on how to make saline solution slime may help or this one on how to make clear unicorn poop slime.
You can also use liquid starch
instead of saline solution, but keep in mind that it does clump really well and you may get less of a drippy affect if you use too much.
It can also alter the color as most liquid starch is white.
Other Holiday Slime Recipes You May Love:
Add Halloween Toys
We love adding fun halloween toys to the slime, which look extra gross.
These make awesome decorations when added into a mason jar or passed around for kids to touch.
Mr. Skeleton felt right at home..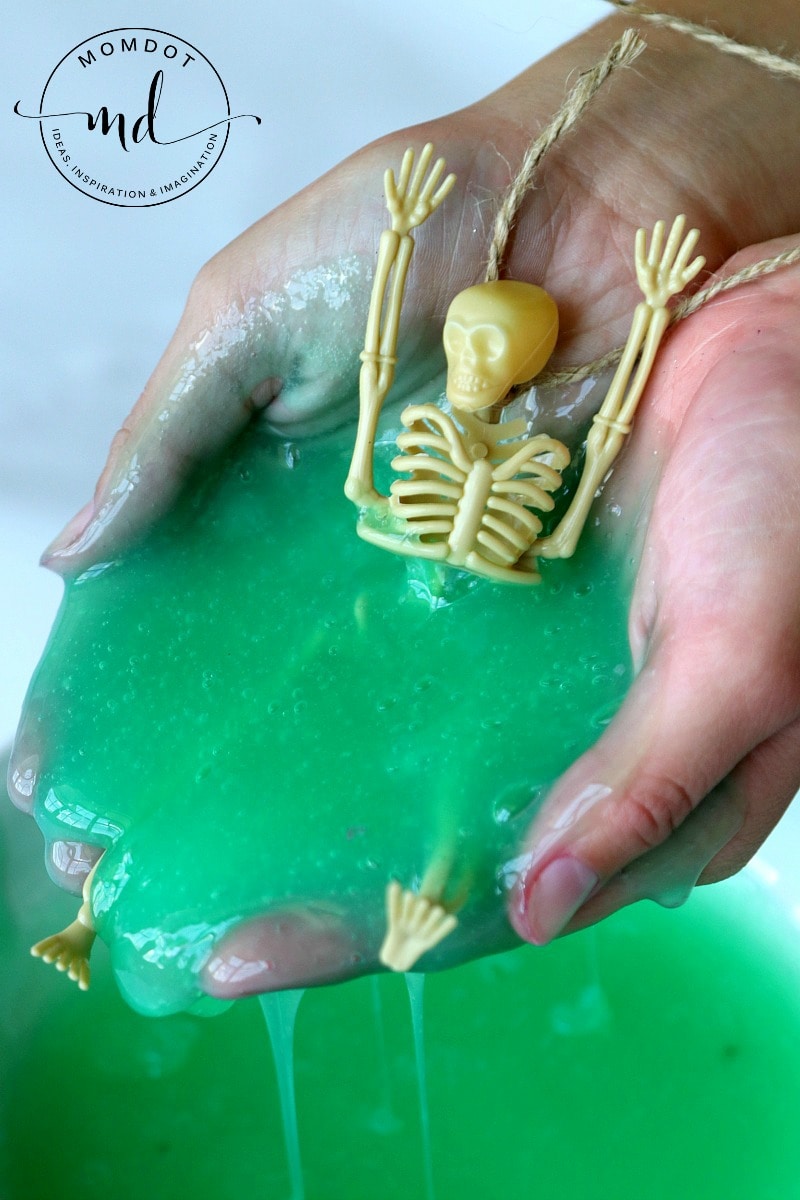 Looking for another disgusting slime recipe to celebration Halloween? Do not leave without seeing Bat Poop Slime! Ewww in all the best ways!