How to make a tutu! How to make a Tutu Hairbow Holder! How to make a barbie Tutu! How to make a tutu for your cat! I love tutorials and love to share with others how to make all these DIY posts with all my readers. Over the years so many people have sent me pictures of their hairbow holders and tutus and its been wonderful!
One of the first tutorials I ever shared on MomDot was How to create a no sew tutu. Tutus are super easy to make and sell all over. But why waste the money when you can have one in every color tulle for less than the cost of 1 in a store!? The time is really the only thing involved in creating a tutu skirt and even with practice you can get better.
This is a very easy easy tutorial and you really only need elastic, needle and thread to quickly sew the waist and the next is just slip knots!!
You can actually head to my other tutorial to learn the rest and detailed instructions. Just click on the photo above!
How to make a Fairy Wand
I have always wanted to Make a Fairy Wand (and you can now check out my how to make a tulle wand tutorial), but not the usual kind of puff ball fairy wand, something different, more creative. Today I decided to get my craft on and started to conjure up what kind of fairy tutu type wand I could make to match one of Charlotte's new play ballerina dress up dresses.

My initial thought was to make more of a "crystal ball" fairy wand. I had visions of sparkles in water and some really unrealistic things for the time I had scheduled, so I spent some time walking around Micheal's to find some inspiration. That place sure is fun in the holidays.
This is what I came up…the project took about 30 minutes and you can alter for any holiday!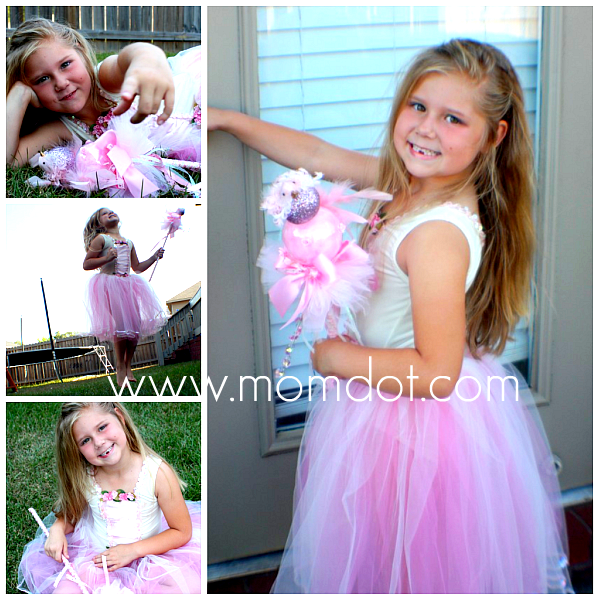 You can go to the tutorial by clicking on HOW TO MAKE A FAIRY WAND
Or maybe you have a ton of hair bows and need a place to hang them? Check this out!
A gorgeous ballerina hair bow holder! And it's not even that difficult with my step by step tutorial with full picture instructions.
I owned a little online business for a few years and sold tutu hair bow holders, handmade, to fussy and frilly mommies like me. I had a wonderful clientele, repeat customers, and still get requests (actually I got one today) to make bowholders. Because they take so long, I eventually stopped making them to focus more on family. Ironically I spend just as much time blogging, but at least my clothes do not drop glitter anymore.
Of course this is an intense tutorial so I had to break it down into three easy steps and posts. You can read them all here:
How to make a new sew tutu : For your cat
Yes, I really did this. Because I have an overabundance of tulle in this house, so what the heck.  Just click on her for information on how to glamor up your cat too!
Other tutorials on MomDot
Whatever you do, get out there and create!
Trisha